Chapter 361. What Will Happen To The Princess? (2)
Translator: Aura / Editor: HB168
---
Emperor Sovieshu, Marquis Karl, and Viscountess Verdi returned to the imperial palace first. Everyone who saw their faces knew the answer before the test result became known.
People gathered in groups to try to guess what was to come.
"Will Empress Rashta be deposed?"
"It's fine if she is deposed. She should also be severely punished."
"I am more interested in what His Majesty will do with the Princess."
"Yes. His Majesty loved the princess so much that he always had her by his side."
"What princess? She's a bastard."
As people gossiped, Sovieshu headed for his room, but on the way there he changed his mind and went to his office. Then, he frantically set to work.
Sovieshu read, approved, corrected, wrote and chose which reports to return without even changing his posture. It could be expected, but in this situation it was clearly not normal.
Marquis Karl worried about the future as he watched Sovieshu.
Sovieshu had left Empress Navier, who had been by his side since childhood, for this daughter, who turned out not to be his. At this moment, he must be speechless.
Sovieshu didn't want to throw out the baby he loved so much in an instant, so he was in a difficult position.
People would think Sovieshu was a fool if he kept another man's daughter, but if he threw out the fake princess, he would be considered cruel and heartless.
It was ironic. There was a time when Navier thought that if she exerted her power on Rashta, she would be considered a villain, but if she stood idly by she would be treated like a fool.
The difference was that Rashta would soon be deposed. Her daughter with another man, conceived in her days as a concubine, would no longer be treated as a princess. Even if Sovieshu wanted Glorym to live as a princess, she could not stay in the imperial palace.
However, Sovieshu did not say a word about what he would do with the princess.
Two hours later, when Baron Lant came to report that Ahn was also the child of Rashta and Alan, Sovieshu finally put down his pen and closed his eyes.
A heavy tension invaded the office.
After a while, Sovieshu opened his mouth with a gloomy expression.
***
News from the Eastern Empire had not yet reached the Western Empire.
Heinley repeatedly knocked over the ink bottle with his elbow or the back of his hand. He seemed to be in a daze due to Navier's confession. Her confession was brief, but it was enough to make his heart race.
Navier's 'I love you' still tickled his ear.
But McKenna was not amused by Heinley's clumsy behavior. He eventually lost patience.
"Your Majesty. Unless you are doing this on purpose to annoy me, please pay attention to your surroundings."
"I'm a loved man, McKenna."
"What?"
"I'm loved."
"What are you talking about?"
Heinley smiled proudly as he stretched his shoulders.
McKenna frowned because he didn't know what happened to Heinley to make him behave like that. He couldn't even guess, so he was uncomfortable that Heinley was so happy.
"Ah!"
Suddenly, McKenna had an idea.
"I know why you feel so happy. Do you expect that when Princess Charlotte marries Koshar, Whitemond will at least give you a port?"
"… McKenna, you have no heart. How can you only think about the benefits?"
When McKenna looked at him in bewilderment, Heinley clasped his hands together and said with excitement in his eyes,
"Think about it, McKenna. At some point my child will ask me. 'Dad, dad, why did you and my mother get married?' Then I'll be able to answer: Your father and mother married for love."
"But that was a lucky case, you can't always marry who you love."
Heinley, who had come out of his dreamy state, looked at him sharply.,
"What I meant was that marriages are usually arranged…"
McKenna didn't want to talk about this any further, so he asked,
"Why do you have that look?"
"McKenna. Don't you want to get married?"
"What?"
"It's not a joke, I'm serious. Isn't there someone you like? Someone with whom you wish to start a family?"
"What are you saying?"
Heinley's expression was serious, so it was obvious he wasn't kidding. McKenna felt embarrassed, smiled awkwardly and quickly changed the subject.
"More importantly, Your Majesty. Did you know that Old Duke Zemensia had a fight with his son?
Heinley noticed that McKenna did not want to talk about marriage. But this new subject was also enjoyable, so he immediately answered.
"Yes. Old Duke Zemensia will be consumed in his wrath. We need only add fuel to the fire."
Heinley smiled as he looked at the ink-stained documents.
He clearly remembered that Old Duke Zemensia tried to harm Navier and his child with food not suitable for a pregnant woman. Heinley definitely wouldn't turn a blind eye.
"Your Majesty has so much on your mind that sometimes… I worry that you can't handle it all."
"McKenna. Are you making fun of me?"
"No, it's not that."
***
McKenna left the office to take a breather.
Although Heinley took it as a joke, it was not. McKenna was really worried.
Judging by Heinley's behavior, his relationship with Empress Navier was very good, Empress Navier and the baby in her womb were healthy, it was said that the Eastern Empire would soon be rocked by a huge scandal, the incident with Whitemond had been resolved favorably, and the Zemensia Family seemed to be crumbling due to infighting.
Everything was going well, but McKenna felt uncomfortable.
As he pondered about the reason for his discomfort, he saw Grand Duke Kapmen sitting alone against a tree. His brow was furrowed, as if he wasn't thinking of anything good.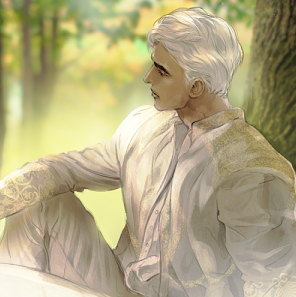 "Grand Duke Kapmen."
McKenna had a good opinion of Kapmen because he had helped during Christa's case. So he approached Kapmen and greeted him in a friendly manner. If he could help him with his problems, he would.
Kapmen returned the greeting arrogantly, but McKenna asked without any displeasure.
"Are you worried about something? You don't look well."
'You have your own worries.'
Kapmen revealed a cold smile and answered honestly only inside himself.
Kapmen's frown was due to the fact that Navier's name had appeared several times in McKenna's thoughts.
It wasn't just McKenna. People thought about Navier so much lately that it was hard for him to walk the streets.
"Well, you don't seem to want to talk to me."
McKenna smiled embarrassed by Kapmen's reaction.
Once McKenna left, Kapmen leaned back against the tree again and closed his eyes.
The first trade team had done well, and the second team had done much better, so the future was bright. However, he did not feel the same joy as the others.
Kapmen was so wracked with pain in his heart that he thought Navier had better freeze his heart with her magic.
Just then, he heard Navier's inner voice nearby.
Kapmen jumped up unconsciously. It was as if he saw a light in the distance.
***
Strangely, I couldn't look Heinley in the face after I told him, 'I love you'.
As I stood in front of him, my heart fluttered and a faint smile appeared on my face.
He'll be back in the evening.
As I took a stroll to soothe my heartbeat, I saw Grand Duke Kapmen not far away, between the trees.
His hair swayed gently as the wind blew. When his eyes met mine, his calm expression became distorted.
He must have read my thoughts about Heinley.
But more than fear, I felt pity.
I felt sorry that Kapmen had to suffer every day from the same pain I experienced when I misunderstood Princess Charlotte.
Grand Duke Kapmen eventually turned and left quickly. Mastas, who was next to me, complained in disgust.
"Why didn't he come over to greet His Majesty? That makes me annoyed."
Rose scolded Mastas.
"He may not have seen her. Haven't you noticed that you've treated people harshly since yesterday?"
"No. It's definitely not like that."
"Ever since Princess Charlotte arrived yesterday, you've been in a bad mood."
"That's…"
"Mastas, is it because Princess Charlotte wants to marry Sir Koshar?"
Comments for chapter "Chapter 361"
NOVEL DISCUSSION