Chapter 363. Is He Happy? (2)
Translator: Aura / Editor: HB168
---
It was a dark night. The moonlight was barely visible because of the dense clouds, but thanks to the oil lamp Heinley carried in one hand it was not too difficult to see the path. Also, Heinley was holding my hand firmly, which made me feel very safe.
How long have we walked in silence?
"My Queen."
Heinley suddenly asked playfully.
"My Queen, when did you start falling in love with me?"
"Is it important?"
"I want to write it in my diary."
"Then I won't tell you."
"It's a lie, I won't write it down. Tell me."
"If you're not going to write it down, why should I tell you?"
"Should I write it down?"
"You see. I won't tell you."
"Why?"
"In the emperor's diary, all important events are recorded for future generations."
A knight behind us let out a soft chuckle. It was an insignificant talk, but since it was among the emperor and the empress, he must have found it amusing.
As I thought about not answering anymore because I felt embarrassed, Heinley asked me with a persuasive tone.
"My Queen. Be honest."
"Huh?"
"Do you avoid the question because it is not easy to answer?"
He didn't mind at all that the knight chuckled at our conversation.
In any case, Heinley was right.
"Yes. I don't know when I started to fall in love with you."
It was only when I misunderstood Princess Charlotte's intentions that I realized I loved him. I made an agreement with Sir Yunim and my ladies-in-waiting to keep the misunderstanding a secret.
Heinley shook his head in disappointment.
"That can't be."
"You do know when you started to fall in love with me?"
"Yes, I know."
"Then tell me."
"I've always been in love with you, and with each passing day I fall more in love with you."
Why is he so good with his words?
"Queen. There are many moments that made me fall in love with you, if I had to tell you each one, I could do it."
"Tell me at least three."
"You were the first woman who lied to me about being a man."
Heinley lowered his voice so only I could hear him.
"You were the first woman to pat my rear."
"Stop."
I reached out with my hand to cover his mouth, but Heinley continued to speak with his mouth covered.
"You were the first woman to feed me insects."
"Did you pick those three on purpose?"
His words made me seem like a strange person. When I looked at him, annoyed, Heinley answered cheerfully,
"Yes."
Then he kissed me and asked,
"My Queen, isn't there something for you in which I was the first? No matter what it is."
Really?
"You were the first man I lied to about being a man. You were the first man I patted on the rear. You were also the first man I tried to feed insects to."
I didn't like that he made me seem like a strange person, so I purposely returned his words. However, Heinley immediately asked me with a smile.
"So we're meant for each other?"
He was so cute that I couldn't hold back the laughter. At that moment, I tripped over a rock that I did not see.
Heinley quickly grabbed me. Although I managed to regain my balance, I deliberately leaned against his body. Since my head was on his chest, I could hear his heartbeat. The smell of fresh grass mixed with the night wind made me feel truly happy.
I was also curious.
I wondered if the man who had abandoned me was happy now.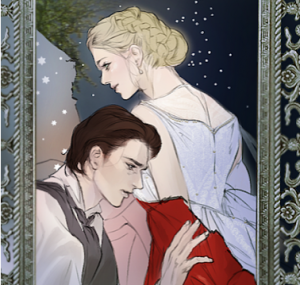 ***
Sovieshu was disconsolate.
"I can't have a child with the title of princess when she doesn't have my blood. Glorym is not even my illegitimate child, so remove her from the position as a princess."
Rashta concealed her past. However, since Sovieshu married her and signed the marriage certificate in front of the High Priest, a formal procedure was needed to remove Rashta from the position of empress.
In contrast, Glorym became a princess only because she was the Emperor's daughter. Since it was revealed that she was not his daughter, a single word from Sovieshu was enough for Glorym to lose her position as princess.
Although both the Emperor and the Empress could legally have concubines, Glorym was conceived when Rashta was not yet the Empress, and worse, Glorym did not have the Emperor's blood.
Even if Glorym was raised as a noble, she couldn't be recognized as a member of the imperial family. Naturally, she couldn't remain a princess.
The only option he had left was to adopt Glorym, but Sovieshu, overcome with anger, didn't even consider it.
Sovieshu might change his mind later, but right now, he didn't even want to see the baby's face. Especially since she looked so much like Rashta.
Still, he did not throw the princess out completely. He asked Viscountess Verdi to take care of her in a secluded room.
Although it had been proven that Glorym was not his daughter, the love and time Sovieshu devoted to the baby would not suddenly be forgotten. This caused Sovieshu to be even more disconsolate about removing her from her position as princess.
He remembered the princess smiling happily, crying in the crib next to his office desk, and making strange sounds like 'abu-abu'. Sovieshu felt a deep ache in his heart after he personally deposed the baby.
But he had no one to talk to about his pain, and no one to comfort him. As he held the highest position in the Eastern Empire, there was no one with whom he could share his worries.
Navier used to play that role, but she was away in another country now. Marquis Karl was a loyal secretary, but not a friend who could share his pain.
After he suffered all day, he returned to his bedroom, leaned his forehead against Navier's painting and sighed heavily.
"Navier… I don't understand why this happened to me."
The cold frame cooled his head a little.
Sovieshu recalled the dinner he had with Navier after he brought Rashta to the Imperial Palace. Back then, Navier had wanted to say something to him, but he repeatedly avoided the subject because it was about Rashta.
Many other fights happened leading up to the divorce, so that wasn't a big fight compared to the ones that followed, and yet it stuck in his memory. He still remembered Navier's expression that day.
"I should have listened to you back then."
Sovieshu slowly closed his eyes and exhaled in pain.
***
However, Rashta now suffered more than Sovieshu.
After the temple visit, Rashta was full of resentment towards Duke Elgy. At first, she was so shocked that she could not even express it properly. Now, as she remembered what had happened, it all seemed so unfair that she was overwhelmed with emotions.
She still couldn't accept it.
She wondered how the princess had suddenly become Alan's daughter, and why Duke Elgy had appeared with Ahn.
In less than a day, Glorym was no longer the princess and became the laughingstock of the Eastern Empire. This was so painful that it was hard for her to breathe.
"What about the princess?"
After learning that Sovieshu ordered Glorym removed from the princess position, Rashta tried to find out more from a maid, but she was only told that Viscountess Verdi had left the princess's room with the baby.
Rashta wanted to see the princess, but no one would tell her where she was.
A few hours later she asked again, but this time the maid was cold.
"I don't know. Wouldn't it be quicker if you found out for yourself?"
She looked at Rashta as if to say, 'Why do you call your daughter a princess? She isn't anymore.'
Her scornful attitude hurt Rashta's pride. She was disgusted that the maid, chosen by Rashta herself, would act like this. Even if she was to be deposed in the future, she was still the Empress of the Eastern Empire. Even the knights had no choice but to hold back their anger as Rashta beat them at the temple.
"Is that the way to address the empress?"
Unbeknownst to anyone, Rashta had deliberately hired needy women to ensure their obedience. She didn't understand why the maid rejected her now.
The maids she hired were genuinely good to her at first, but when Rashta imprisoned one of their fellow maids, and nearly had the maid's father killed, merely due to a slip of the tongue by the maid, respect for Rashta shifted to fear.
In addition to this, other palace employees decided to stay away from the empress's new maids due to the negative rumors about Rashta.
From then on, the maids stopped following Rashta and just did their jobs. Now that the princess, who was Rashta's last pillar, was removed, they began to think, 'Why be polite to someone who will fall anyway?'
They calculated that in order to keep their jobs when a new empress came to the western palace, they would have to distance themselves from Rashta.
Comments for chapter "Chapter 363"
NOVEL DISCUSSION