Chapter 371. Be Careful What You Wish For (2)
Translator: Aura / Editor: HB168
---
"Is this true? Or a joke?"
As soon as I asked, my ladies-in-waiting frantically began to answer at the same time. It was difficult for me to understand them, so I shook my head and said,
"I'll read it myself."
It would be quicker that way. When I started to read the newspaper article, they fell silent.
Although an article may seem objective, I knew it might contain the journalist's personal feelings and intentions, so I tried to extract only the relevant information.
However, that information alone was full of surprises. The contents of the article could be summarized as follows,
1. The results of a paternity test conducted at the temple revealed that the princess did not have Emperor Sovieshu's blood.
2. Empress Rashta lived with another man before her marriage to Emperor Sovieshu, and she even had a child with him.
3. Empress Rashta concealed her previous marriage from Emperor Sovieshu.
4. The real father of the princess is Empress Rashta's first husband.
5. Emperor Sovieshu angrily deposed the princess as a result of the paternity test results.
I had assumed that Rashta had a child before she became Sovieshu's concubine, but how did the truth surface?
It was a little disconcerting. I cursed Sovieshu and Rashta on their wedding day because I didn't want them to be happy, but I didn't expect their relationship to end up so badly.
A journalist named Joanson went as far as ridiculing Empress Rashta. He remarked that it was contradictory for her to openly mock me for being a 'remarried empress' when she had also been married twice.
— Of course, unlike Empress Navier, Empress Rashta was not recognized as a legitimate wife in either her first or second marriage.
Laura was reading the newspaper over my shoulder, and she asked anxiously,
"Couldn't that journalist get in trouble for talking about it publicly? His Majesty Sovieshu will be furious when he sees this."
But Countess Jubel answered calmly,
"That journalist must have known that His Majesty would overlook it. If this story has reached us all the way here, it must have already spread throughout the Eastern Empire."
Rose clicked her tongue and said, "The Eastern Empire… is very lively."
Mastas asked curiously, "So… what will happen now?"
Now I understood why my ladies-in-waiting had come in with such unusual expressions, especially Laura and Countess Jubel. Unlike Rose and Mastas, who could fully enjoy the situation, both Laura and Countess Jubel were tied to the Eastern Empire. Their families, memories, estates and assets were all from the Eastern Empire.
After he belittled me for Rashta's baby, it felt good that Sovieshu was in this situation. But since I was born in the Eastern Empire, it was awkward to see the Imperial Family become a mockery.
Laura asked another question.
"Your Majesty, what will you do?"
All my ladies-in-waiting fell silent and waited for my answer. They had expectant faces.
But in this case, isn't the answer obvious?
"It's shocking, but… what can I do?"
Should I console Sovieshu by saying, 'I'm sorry that Rashta's daughter is not your daughter'? Should I console Rashta as empress of a neighboring country? Should I condemn her actions as the former empress? Or should I mock them?
No. It would be inappropriate for me to intervene in any way.
"It's none of my business now."
I spoke firmly and folded the newspaper.
***
There was another commotion in the Eastern Empire. Viscount and Viscountess Isqua reappeared as suddenly as they left when they claimed to have found clues as to the whereabouts of their second daughter.
When the Isqua couple reappeared, doubts about Rashta's parentage intensified. People wanted the Isqua couple to take a paternity test with Rashta.
"Empress Rashta must undergo a paternity test with her parents this time."
"She has lied so much. How could she not have lied about her real parents?"
As soon as the couple crossed the capital they were arrested and imprisoned.
It was still unclear whether Viscount and Viscountess Isqua were Rashta's real parents, as well as whether Empress Rashta would be removed soon. Nothing had been decided yet.
Since no one expected that the Isqua couple would be imprisoned, everyone was baffled. People began to gossip about the cause.
People were even more confused when it became known what Viscount and Viscountess Isqua were accused of: 'attempted murder of a court mage's assistant'. They didn't understand why a court mage's assistant had anything to do with them.
However, the nobles quickly found the connection.
"Isn't the assistant to the court mage the mage residing in the Southern Palace?"
"The young girl rumored to have been brought by His Majesty to become his concubine…"
"Oh, my gosh! I thought it was a misunderstanding because she seems to be living quietly while working as an assistant. So, was it true that she became his concubine?"
In an instant, several rumors arose. Some nobles believed that the Isqua couple had attacked Evely to protect the position of their daughter, Empress Rashta. Others believed that Rashta herself had asked them to take care of Evely.
Sovieshu smiled coldly when he heard the second rumor.
"They are not Rashta's real parents, and they didn't even raise her. If they feel cornered, they won't hesitate to blame Rashta for the incident."
"Is Rashta behind that incident?"
"Does it matter?"
Sovieshu's anger peaked after the paternity test.
He had been taught not to show his emotions, so at first glance he seemed unaffected by the current dire situation, but he wasn't. He couldn't take it anymore.
The problems with Duke Elgy caused his anger to grow even more.
Sovieshu planned to persuade Duke Elgy, and threaten him if it didn't work out.
However, that same day, Duke Elgy disclosed everything to the press. The newspapers published the news about the promissory notes and the port, and public opinion about Rashta became extremely negative.
After that, people who had only shown support for Sovieshu began to criticize him because he let Rashta do whatever she wanted.
In response, Sovieshu rushed the trial of Viscount and Viscountess Isqua.
"As soon as the couple is ready, proceed with the trial for the attempted murder of Evely."
"Yes."
"Given the results of the investigation, there is no way for them to escape punishment."
Sovieshu spoke coldly, sat down on his chair, drew his sword, and began to wipe the blade with a dry towel. His hand movements were so careless that it seemed at any moment he would cut himself with the blade.
Marquis Karl looked at Sovieshu with concern.
"Hmm… Your Majesty."
"What is it?" Sovieshu asked without looking at him.
Marquis Karl spoke cautiously,
"Viscountess Verdi has said that the princess is ill…"
Before Marquis Karl could finish his words, Sovieshu stopped moving. His eyes narrowed for a moment, though it was hard to tell because of his hair, and he asked coldly,
"Who is the princess?"
This was true. The baby, who did not have a drop of the Emperor's blood, was not a princess. Glorym still lived in the imperial palace only because Sovieshu still had a little affection left for her.
Marquis Karl, who had shown some sympathy for the innocent baby, was unwilling to bear Sovieshu's wrath for taking care of Rashta's second child.
"Pardon me, I forgot my words."
When Marquis Karl left, Sovieshu began to wipe his sword again. However, he moved slower than before. His gaze also wandered. Eventually, he cut his finger and blood came out.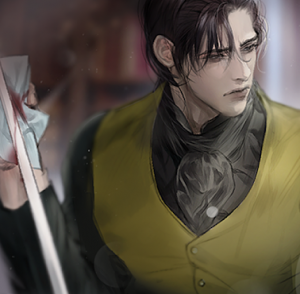 Sovieshu didn't wipe off the blood, he just stared blankly at the blood flowing down the white sword. He then closed his eyes and called out to a trusted knight.
"You summoned me, Your Majesty."
"… Find out how ill the baby is, and send for the palace doctor."
"Yes, Your Majesty."
The knight answered with determination without showing any emotion and left.
When Sovieshu was left completely alone, he lowered his sword and closed his eyes again.
Glorym was not his daughter, but Alan's daughter. It frustrated him that he couldn't get the baby out of his heart completely.
Comments for chapter "Chapter 371"
NOVEL DISCUSSION