Chapter 375. Anger And Peace (1)
Translator: Aura / Editor: HB168
---
"What are you thinking about, My Queen?"
I was sitting on a comfortable chair in the garden admiring the reddish sunset when I heard Heinley's lovely voice next to me.
When I turned, he was looking at me with warm eyes. One of his hands rested on the back of my chair. His purple eyes mixed with the reddish glow of the sunset created a more mysterious atmosphere than usual.
"You don't look too pleased. Is it because you are still upset about the war stories?"
"No."
I smiled and stroked his cheek with my hand.
"I told you it's fine to read the war stories to the baby, as long as you omit the violent parts that aren't good for a baby to hear."
Heinley leaned over a little and rubbed his cheek against my hand. Then he kissed my palm lightly and spoke with concern.
"But, My Queen, you don't seem very cheerful."
"I'm confused… by the news from the Eastern Empire."
"Aren't you happy?"
"I have mixed feelings. It's not happy news, but it is satisfying."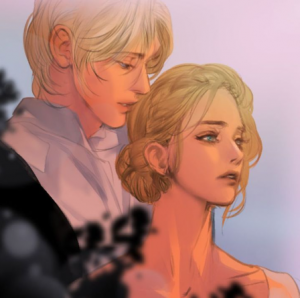 Sovieshu had boasted of his love with Rashta, and I had witnessed how someone changes when love arises. Now, I was witnessing how someone changes when love ends.
Of course, if the article was true, Rashta had done so many wrongs that even love couldn't cover them up.
But now that Sovieshu was pulling away from Rashta… the man who falsely accused my brother for Rashta's sake, and who believed her no matter what I said… it made me feel strange.
I wonder if my love with Heinley could end like this.
But I quickly dismissed that thought. Our love had just begun, there was no need to talk about the end.
Besides, our love didn't have to end, like Sovieshu's. Our love could be long-lasting, like my parents'.
I shook my head, then I pulled Heinley by the neck and kissed his lips.
It was pleasant to hear him moan due to the kiss.
"Queen. Isn't this bad prenatal education? The little bird will hear it."
"I don't think the little bird heard your moans."
"But I don't think I can stop myself."
"Don't worry. The baby is asleep right now."
"!"
***
The Isqua couple were sitting against the wall of their cell in shock. They looked haggard, as if their soul had left their body.
Viscount Isqua scratched the cold stone floor with his fingernails, while his wife tugged at her hair.
Both had sunken eyes and pale complexions, to the point that they looked like vagabonds, rather than a noble married couple.
"Have these two gone crazy?"
A guard made the comment when he saw them, but the Isqua couple weren't even hurt by his words. The truth Viscount Roteschu had revealed pained them more than a guard's mockery. However, they still had doubts.
"Could it be true?"
After a long time, Viscountess Isqua asked with difficulty.
"Is that mage really… our daughter?"
"I don't know. Viscount Roteschu, of all people, was the one who told us."
"But we've never had direct contact with Viscount Roteschu. Why would he lie to us?"
"That's true."
"Although I know that the evidence provided by Viscount Roteschu is inconclusive…"
Viscountess Isqua sighed. The more she talked about it, the more it hurt her and the more she regretted it. Viscount Isqua also let out a deep sigh and covered his head with both hands.
"Come to think of it, she looks a little like us."
"Yes, her hair is the same color as yours, and her eyes are the same color as mine."
"She's not a bad girl. We thought she was bad because we were on Rashta's side at the time."
"That's right. She is the complete opposite. She's a very smart and feisty girl…"
The more they talked, the more they seemed to realize Evely's virtues. When they saw her as Rashta's enemy, Evely's actions seemed malicious and arrogant. But the prejudice that blinded them was now gone, and they struggled to understand how they ever viewed Evely in such a bad light.
It was painful now that they belatedly realized that Evely was a good girl.
"Shouldn't we talk to her first?"
"What are you going to tell her?"
"We—"
"Do you think she'd like to know?"
"We can't leave the relationship as it is."
Even if the couple was convicted of attempting to murder a commoner, they would soon be released from prison, as nobles were rarely punished severely for such a crime.
If Evely really was their daughter, they had to mend their relationship somehow.
Just then, footsteps were heard coming down the prison stairs. The couple stopped talking and waited to see who was coming.
Unexpectedly, Evely appeared.
The couple looked at Evely in surprise, while she looked at them coldly. Their gazes intertwined intensely.
"Miss Evely, why did you come?"
Viscountess Isqua forced a smile. Her daughter's coldness broke her heart. She wanted to touch her, look at her more closely, find out how she had been all these years. Although she tried to appear calm, her voice trembled.
"You seem to be afraid…"
Evely muttered as she stared at Viscountess Isqua with a stony expression. Her tone was indifferent and her gaze sharp. She felt utter contempt for the couple, who were saddened to feel it.
"Miss Evely…"
This time it was Viscount Isqua who carefully called out to Evely, but she asked coldly,
"Won't you treat me like a filthy commoner today?"
The couple were startled to remember everything that had been said to Evely. Their past words were now like daggers that stabbed into their chests.
Evely smiled nonchalantly,
"You had a haughty attitude when you were free, now you are pitiful locked up here."
"Miss Evely, we have something to tell you."
"What is it?"
"We want to apologize… for how badly we have treated you…"
Viscountess Isqua spoke again in a trembling voice. However, Evely frowned and raised her hand for her to stop.
"Oh, there is no need to apologize. It's not a sincere apology anyway."
Before either could answer, Evely added, "Am I right?"
The couple's faces paled.
"If you're apologizing now, it's because you're afraid I'll testify against you in court. And that's precisely what I will do."
"That's not the reason, Miss Evely."
"It bothers me that now you want to pretend to be respectful. I would prefer that you act as you usually do, even if it's rude."
Evely took a step back, as if she couldn't stand the stench that emanated from the cell.
Her actions once again pained the couple.
"And you asked why I'm here. You used to approach me to mock me. Now, I've come to do the same."
Evely's every word cut deep.
Comments for chapter "Chapter 374"
NOVEL DISCUSSION