Chapter 377. Secret Intruder (2)
Translator: Aura / Editor: HB168
---
After the tea party was over, I went out for a walk in the garden alone. Due to the unexpected information, I needed to reorganize my thoughts.
The concubine of the former king was one of the noblewomen I had invited to tomorrow's tea party.
Rashta came to mind at the mention of 'the king's concubine', so I was reluctant to meet that noblewoman.
I wasn't worried that Heinley might fall in love with another woman. I just didn't want to meet someone who had been a concubine as a candidate for my child's nanny.
But I hesitated just as I was about to decide to cancel the invitation. It wouldn't be right to outcast a person with whom I had no relationship. I had even talked face to face with Sovieshu several times, and he was the person who hurt me the most.
I may not be a popular socialite but I held a powerful position. If I were to openly show even slight dislike for someone, it would cause other nobles to avoid that person as well.
Wouldn't she be ostracized by high society if I suddenly canceled the invitation? Since my every action can affect others, shouldn't I be more even-handed in my treatment of people?
At that moment, I saw some servants unloading boxes from a carriage, and one of them caught my eye. I wondered why a servant caught my eye, and I realized that I had never seen him before. I knew the faces of all the people who worked here in the imperial palace well.
'Is he new?'
Except for the official business that I had to attend to, lately I paid no attention to anything else. It was likely that new people had been hired during this time.
When our gazes met, he bowed to me as if he recognized me and continued unloading the boxes.
After I looked over there for a while, I turned around and went back the way I came.
I walked through the garden deep in thought, but just before I entered the corridor I caught a glimpse of the unknown servant reflected in a gleaming pillar. He was following me with silent steps.
My heart began to pound in fear.
It could be a coincidence, but since he was a complete stranger I was worried that he might have bad intentions.
Although most of the forces that had opposed Heinley had quietly surrendered, there were still roots that had not been cut.
After some thought, I decided to cause the stranger to slip by using my magic to freeze the floor beneath his feet. I quickly determined his position through the pillar and used my magic. However, I had no experience in mana control, so it was difficult to accurately calculate the necessary mana power.
I heard a hiss followed by a loud thud, and I turned around and saw that the servant had fallen to the floor. The floor beneath his feet was frozen, but so were his legs.
Although I was surprised by the result, I tried to pretend it hadn't been me, "Are you alright?"
A group of guards who had heard the noises hurriedly approached. They shouted in alarm at the scene before their eyes.
"It's an intruder!"
"An intruder attacked someone!"
"Catch him!"
As soon as they saw me, their faces turned deathly pale.
"Your Majesty, get away at once!"
"No, it's just that…"
Shortly after the guards pinned down the unknown servant, the commotion escalated when Viscount Langdel arrived with his men.
The servant struggled against the knights, as if he feared he would be stabbed. His fear increased when Viscount Langdel held his sword to his neck without hesitation.
***
After the commotion subsided, I went to my room because I suddenly felt dizzy. I lay down on the bed and was examined by the concerned palace doctor. My heart was still beating fast.
"Oh, it looks like you've had quite a shock. You must rest, Your Majesty."
At that moment, I heard a faint laugh. When I looked towards the sound, I saw Heinley leaning against the door trying to hold back laughter.
"My Queen, I heard there's an intruder who uses ice magic."
***
Rashta had not been formally charged for her crimes yet, so she could remain in the Western Palace. She retained the title of Empress and dressed as such.
However, she could only move freely within the Western Palace. Knights sent by Emperor Sovieshu prevented her from leaving.
Viscount Roteschu had once told her, 'It is a shame that a slave is pregnant with my grandchild. It would be a disgrace for others to know.' For that reason, he locked her in a small room for many months.
Back then, she had nothing, so her confinement in the lavish Western Palace should not be difficult for her. But it was the confinement itself that tormented her.
The noblemen who used to come to visit her rarely came these days. Even after noblewomen began to criticize the Empress because she invited only men to her tea parties, some of the men continued to visit. But not anymore.
The maids, whom Rashta had deliberately selected due to their harsh backgrounds despite their lack of formal education as maids, did not help her in the least. They disowned Rashta as soon as she lost her dignity as Empress.
Even in the face of ostracism by the maids, noblemen, and knights, Rashta was determined to find a way out.
Duke Elgy, the person she trusted the most, betrayed her. Viscountess Verdi took her daughter from her.
'Would it have been better if I had remained close to Baron Lant?'
She had distanced herself from Baron Lant because he would not allow her to handle her money, because he disapproved of her relationship with Duke Elgy, and because Navier advised her to trust Sovieshu's secretaries. Rashta belatedly regretted that decision.
Nevertheless, she shook her head.
'No, deciding not to trust Baron Lant was not a mistake. The mistake was to trust someone else after Alan betrayed me. I shouldn't have trusted anyone but myself! Still, I can't give up. I have to find a way to overcome this adversity.'
While deep in thought, she saw a man at the entrance of the West Palace garden.
Since she hadn't received any visitors these days, Rashta approached the man with a mixture of fear and curiosity.
It was Baron Lant.
"Baron Lant…"
Rashta whispered his name. Sovieshu must have been terribly angry, so she didn't expect any of his men to visit her.
Baron Lant greeted Rashta with a complicated expression.
"How have you been, Your Majesty?"
"Um, Rashta…"
Baron Lant looked around and shook his head as Rashta tried to answer.
"We'd better talk in the drawing room."
"Yes, come on in."
Rashta nodded. He seemed to have something to say in secret.
Baron Lant was right to request privacy. There was no one Rashta could trust in this palace. If any of the servants who wandered about were to overhear the conversation, undesirable rumors would undoubtedly spread.
She walked ahead of him. In the drawing room, a maid served them tea and snacks, looking at them curiously. Rashta ordered the maid to leave.
Rashta sat down after she made sure that no one could eavesdrop on the conversation.
Baron Lant watched her with mixed feelings. He knew that Duke Elgy, whom Rashta blindly trusted, had betrayed her, so he somewhat understood the way she acted.
"What brings you here, Baron Lant?"
"Viscount Roteschu and Alan will be tried for the attempt to deceive the Emperor with a fake princess."
"Viscount Roteschu too?"
"Yes. They're both in prison. I thought you should know…"
Baron Lant felt sorry to break this news to Rashta.
However, Rashta blinked a few times before she flashed a bright smile. She then put her hands around the teacup and smiled even more angelically.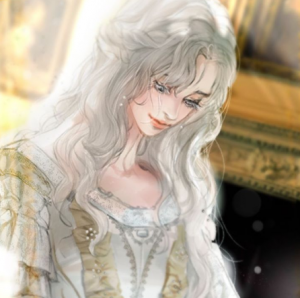 "That makes me happy."
Baron Lant looked at Rashta in astonishment for a moment, 'Does she think it won't hurt her?' He was confused by her reaction.
Rashta smiled slightly at the look of Baron Lant. It was obvious to her what he was thinking.
Contrary to Baron Lant's assumption, Rashta knew that it was not in her best interest for Viscount Roteschu to stand trial. Roteschu was a malicious, selfish and ruthless person to anyone who was not of his family. He would not hesitate to make false accusations to evade his crimes. He didn't mind pushing others when he was in danger.
Despite the risk, she was pleased that Viscount Roteschu would be destroyed.
"He always intimidated Rashta."
Rashta pretended not to understand what Roteschu's trial implied for her own future.
Ignorance would be an excellent shield against what lay ahead. It would also be a sword that would protect her, by arousing compassion in people like Baron Lant.
Although ignorance in an Empress implied that she was not competent, it could be a weapon to mitigate her crimes. The world was full of people who felt compassion for those they considered inferior to them.
As Rashta expected, Baron Lant's expression turned sad when she implied that punishing the man who intimidated her was more important to her than whatever might come out during his trial.
Rashta thanked Baron Lant and deliberately showed more joy as soon as she realized this.
"Thank you for the news, Baron Lant."
Baron Lant's heart shrank as the unfortunate Empress thanked him without knowing the bleak future that awaited her.
He had known her since she arrived at the imperial palace, during her brilliant days as a concubine. Back then, she didn't know anything, not even how to write. He felt that to send her to the gallows was like pushing a child off a cliff.
What made him pity Rashta even more was that he had also been blamed by Sovieshu for this situation, which would close the door to any future promotion. But this was nothing compared to what could happen to Rashta, whose life was in danger.
After a while, Baron Lant finally spoke with difficulty,
"Viscount Roteschu is an unscrupulous person. He will blame the Empress for everything to cover up his own crimes. So, Your Majesty…"
"What?"
"Why don't you escape before the trial is held? If you want, I can help Your Majesty."
Comments for chapter "Chapter 377"
NOVEL DISCUSSION