Chapter 379. Warm And Cold (2)
Translator: Aura / Editor: HB168
---
"My Queen! There's an intruder who uses ice magic! The intruder froze a servant's legs! Aaah! It's scary! It's really so scary!"
"…"
"Aren't you scared, My Queen?"
Heinley was acting so dramatically, speaking with so much feigned fear and alarm, that it was becoming tiresome.
I glared at him, but Heinley didn't mind because he seemed to enjoy making fun of me.
"Queen, My Queen. What will we do if the fearsome ice mage shows up? My Queen, My Queen. Will you protect Heinley from the ice mage? I'm scared."
'He even pretends to speak like Rashta?'
"My baby, my baby, your mother is warm and cold at the same time."
Then he leaned close to my belly and whispered sweetly to our baby,
"My baby, your mother reads fairy tales full of dreams, hopes and love for you, but she is also able to freeze people alive if she doesn't like them."
I turned around to look at the clock on the wall. It had been half an hour since the palace doctor left.
'Enough is enough… I think I've been pretty patient with him.'
I got out of bed slowly and grabbed the pillow I was leaning on. Holding the pillow like a weapon, strengthening my grip on it, the desire to fight began to burn inside of me.
"Huh? Why do you hold the pillow like that, My Queen?"
Heinley, who had been distracted in making fun of me, stopped and asked in confusion.
'Is his naughty mind unable to guess what's in store for him?'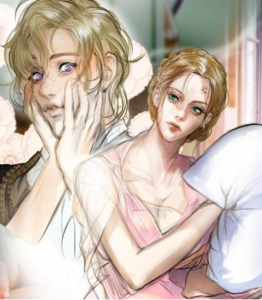 "My Queen?"
I swung the pillow to hit him.
"My Queen!"
Heinley was surprised, but he quickly stepped back to avoid the pillow, opened the door and ran out.
When I tried to chase after him with dignity, he was careful enough to turn back to close the door and flee just before my pillow caught up with him. As a result, the pillow crashed into the door with a loud thud.
I looked at the closed door angrily.
Since I was concerned about my reputation and honor as empress, I would never walk down the corridors swinging a pillow. Heinley knew my personality well. It was evident that he left my room so I couldn't chase after him.
"Your Majesty? What happened?"
"Are you all right?"
"Did you fall?"
As I took a deep breath to calm my anger, my ladies-in-waiting soon came to ask me from outside in an alarmed voice.
"I'm fine."
Once I opened the door, my ladies-in-waiting sighed with relief and looked at the pillow in my hand with curiosity.
"Your Majesty, why are you holding a pillow…?"
Rather than tell a lie, I shook my head and put the pillow back on the bed.
I didn't want the baby in my belly to misinterpret Heinley's words, so I would take some time later to explain what happened.
***
'What did I just see?'
Heinley wandered down the corridors deep in thought, unable to hide his surprise.
What he had just experienced didn't seem real to him, so much so that he couldn't remember it well.
'My Queen… my graceful, elegant Queen used a pillow as a weapon.'
Heinley only stopped when he ran into Koshar. He looked around and realized that he was on the first floor. He seemed to have walked faster than he expected.
"Good to see you, Your Majesty."
Heinley smiled in response and took the opportunity to ask him,
"Brother, you are just the person I wanted to see. Is it normal for your sister to use a pillow as a weapon when she gets angry on certain occasions?"
He believed that Koshar was the right person to answer this question. Since it was about Navier's honor, he couldn't tell anyone else about this incident. Koshar loved his sister very much, so he could clarify things for Heinley while protecting Navier's privacy and honor.
Heinley's assumption was correct, Koshar nodded awkwardly as if several memories had come to his mind.
"So she's always been like that…"
"I'm sorry. Most of the time she doesn't express her emotions and keeps it all to herself, but on the occasions when she uses a pillow as a weapon is when she shows her true anger."
"I was surprised to see My Queen act with so much intensity, brother."
Koshar knew that Navier uses pillows as a weapon because they are stuffed with bird feathers. No matter how hard the hit, the other person would not be hurt.
Navier and Sovieshu had been close since childhood, but often quarreled over various trivial matters. Because Sovieshu was the Crown Prince, Navier could not hurt him. So, after much thought, she decided to use pillows to settle quarrels. Koshar, who was more immature back then, taught his younger sister to use pillows to fight so that she would not be defeated by the crown prince in a pillow fight.
But Sovieshu meant so much in Navier's past that Koshar couldn't even tell this trivial story without talking about him.
For that reason, Koshar just said awkwardly,
"Navier doesn't get angry out of nowhere."
Heinley misunderstood Koshar's words, thinking that Koshar was indirectly blaming him for Navier's anger. He felt embarrassed, so he quickly changed the subject.
"Now that I remember, brother. Do you want to marry Princess Charlotte of Whitemond?"
"I wouldn't mind marrying her, but… I don't know if Princess Charlotte feels the same way."
"You make an adequate spouse as you're very handsome."
The answer to Koshar's words came from Princess Charlotte herself, who was calmly approaching them.
"If one has no choice but to accept a political marriage, then one must do one's best."
Princess Charlotte greeted Emperor Heinley and then she turned to Koshar and spoke with a confident smile,
"I chose you, the most handsome of all the choices I had available to me. Are there any women of higher status than me among your choices?"
Koshar seemed surprised and embarrassed, and Heinley left quietly.
When he entered his office, he saw McKenna writing seriously at his desk and said cheerfully,
"I saw something very interesting."
"Yes? What?"
"A new love story… By the way, why do you look so serious?"
"Of course it's because of the intruder."
"The intruder who used ice magic…"
"No."
'Was there another intruder?'
When Heinley stared at him, puzzled, McKenna explained a little annoyed.
"I mean the servant whose legs were frozen."
Heinley's expression stiffened.
"Oh, I had forgotten. Why was that servant there? I know his identity has been confirmed."
When Heinley heard about the supposed intruder who used ice magic, he thought it was a misunderstanding, but once he found out what had happened and confirmed that Navier was safe, he also inquired about the injured servant.
The servant had been working at the Imperial Palace for five years. He typically worked in the warehouse, but today he had come all the way here because there were many boxes to carry.
However, since the servant was caught alone in a secluded spot and turned deathly pale when he saw the knights, Viscount Langdel thought the situation was suspicious and offered to investigate.
Heinley wanted to know about this.
"The servant never intended to harm the Empress. However, he was asked to approach the Empress to see what would happen."
Comments for chapter "Chapter 379"
NOVEL DISCUSSION