Chapter 380. Rashta's Despair (1)
Translator: Aura / Editor: HB168
---
There was a bit of a stir due to the intruder yesterday, but the atmosphere soon calmed down as the alleged intruder turned out to be a servant of the imperial palace, and the person who used ice magic… we were able to cover this up.
Of course, I couldn't walk around unescorted for a while, and the knights would probably be busy trying to figure out who asked to approach me.
In any case, I decided to meet with the noblewomen as planned. The former king's concubine was also invited, although I had hesitated to meet with her until the very end. But it wasn't a bad decision.
"Honestly, I was really worried that Your Majesty would meet with everyone but me."
The former king's concubine smiled broadly as soon as we sat down at the table, revealed her concerns, and laughed.
"I thought that Your Majesty would be reluctant to invite me after what happened in the Eastern Empire."
The other noblewomen were taken aback by her candor. I was also surprised. The former king's concubine smiled so brightly that her eyes narrowed.
She had a very different personality compared to Christa's. Well… Rashta and I also had very different personalities.
That night, I told Heinley about it. However, I noticed as I spoke that his expression was not good.
"Heinley?"
Why does Heinley have such a gloomy expression today? Usually he doesn't keep quiet. I leaned close to him and put my hand on his cheek.
"What's the matter?"
I was worried to see Heinley sad after he had enjoyed making fun of me only yesterday. What happened to him?
Heinley answered immediately.
"There is something important I must tell you, My Queen."
"All right, tell me."
"A trial will be held against 'that woman' in the Eastern Empire."
Rashta is the person whom Heinley calls 'that woman'. Will there be a trial against Rashta?
"Really?"
"Yes."
Well, it is a huge problem that the princess is not actually the emperor's daughter… It was reasonable for Rashta to be punished for it.
"I don't care what happens in the Eastern Empire anymore."
I stood up as I deliberately spoke firmly and coldly. I found it rather odd that Heinley had such a serious expression. Given his personality, shouldn't he be happy about the news?
"Yes, I know."
After Heinley said this, he sighed heavily,
"But the Eastern Empire asked if My Queen could attend the trial."
"Me? At the trial?"
"Since you were a victim, the Eastern Empire asked if My Queen would attend as a witness… What do you want to do?"
***
Rashta went out into the corridor and made a request to a knight on watch.
"I would like to see His Majesty."
The knight could have ignored her, but he told her to wait a moment and headed to the Eastern Palace.
Rashta wandered down the corridor, then returned to her room and sat in an armchair as she waited nervously.
After a while, the knight returned with the answer.
"His Majesty ordered me to lead Empress Rashta to him."
Rashta looked at herself in the mirror and quickly combed her hair. Then, she followed the knight.
"Shameless."
"She committed serious crimes without even flinching."
"Who would have thought that with that innocent face she would be so despicable."
On the way to the Eastern Palace, the murmurs she heard in the corridors made her heart tear, but she tried hard to ignore them.
When she finally met Sovieshu, she was welcomed by his icy gaze. His eyes, once filled with warm affection, were cold as if winter had come. His demeanor seemed to suggest that Rashta should not waste his time, so she opened her mouth with difficulty.
"What will you do to me?"
"It will depend on the crimes you have committed."
"I have committed no crime, Your Majesty."
"You still think to deny it after all that has been revealed."
"You knew… I was a runaway slave, but you didn't care."
"I knew you were a runaway slave. But I didn't know you were this kind of person."
"Your Majesty, the Rashta you met back then and the Rashta in front of your eyes is the same person."
"The man you loved and the man you betrayed is also the same person, Rashta."
There was no warmth in his words, only sharp thorns and painful wounds.
"Your Majesty, let me explain it all. If there is any misunderstanding, I will explain it to you."
Rashta spoke with a pained expression, but Sovieshu didn't want to listen to her absurd excuses.
"Misunderstanding? What misunderstanding? That the princess turned out not to be my daughter is a misunderstanding? Or is there some misunderstanding in the promissory notes presented by Duke Elgy? Or is the misunderstanding with the document promising a port to Duke Elgy? Or…"
After a momentary pause, he looked at Rashta with a fierce expression.
"Or is it a misunderstanding that a rumor was spread in the Western Empire? A rumor that the cause for my divorce with Navier was her infertility?"
'What does he mean?'
At the unexpected attack, Rashta exclaimed in surprise,
"Rashta never did that!"
Sovieshu asked with an angry snort.
"You never did, or you wish you never did?"
"Your Majesty!"
"The Western Empire made an official complaint. They want you to publicly apologize for that."
"I'm still… I'm still the Empress of the Eastern Empire, Your Majesty. You won't ask me to apologize publicly? That would be a disgrace to the Eastern Empire!"
"No. Don't worry, there is no need for you to apologize. Soon, you will not represent the Eastern Empire."
Rashta looked at Sovieshu in astonishment and burst into tears.
"Your Majesty… Does Your Majesty no longer believe in Rashta? I remember the time you said you felt sorry for Rashta. I remember the time you said you would protect Rashta. However, now you falsely accuse Rashta?"
Sovieshu stared at Rashta for a moment, speechless.
"Am I falsely accusing you? Of all that I said, what did you not do?"
"I did nothing!"
Sovieshu's mouth opened wide. He really was surprised by her words.
"I… I don't know anymore. I don't know what the hell you are thinking."
"Rashta didn't say that Navier was infertile! Rashta only said that there was a rumor that the reason for her divorce was her infertility! Your Majesty was the one who told me that Navier might be infertile!"
When the other side uses absurd arguments, the shock is so great that it is difficult to think of what to say in rebuttal.
This was the case for Sovieshu. He was shocked and couldn't understand Rashta.
Even if such a rumor existed, didn't Rashta know that the fact that the Empress spread the rumor to a foreign noble via letter was in itself a problem?
"That's enough. Get out. It was crazy to think that I could talk to you."
He waved his hand, completely exhausted. He felt foolish for trying to have one last conversation with Rashta, not to mention that talking about Navier reminded him of all his regrets.
"What will you do to me?"
"You'll have the answer at the trial. You'll be able to ask the judge directly."
At that moment, Rashta pleaded as tears streamed down her cheeks,
"… Please save me."
Sovieshu, who had an intense headache, looked at her in bewilderment. Rashta looked like a soaked cat alone in the rain, her expression sad and forlorn.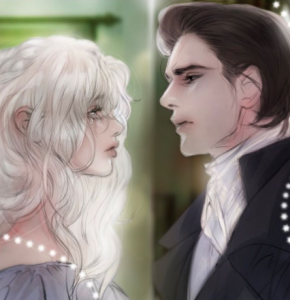 "Your Majesty, don't let Rashta be severely punished. Rashta didn't commit any serious crime. If Rashta's crime was to sit on the Empress's throne, then it is our crime, not just Rashta's. Other than that, Rashta did nothing wrong."
Sovieshu kept his lips tightly closed.
Comments for chapter "Chapter 380"
NOVEL DISCUSSION