Chapter 391. I Will Not Sink Alone (2)
Translator: Aura / Editor: HB168
---
Count Pirnu pretended to be busy and hurried out of the office with his belongings.
Marquis Karl looked down as he reproached himself, 'I shouldn't have responded that way'.
Sovieshu's lips moved several times, but in the end he couldn't say a word. Soon after, he suddenly asked with a frown,
"What about Duke Elgy? Is he still in the capital?"
Once the port case became public, Sovieshu officially notified Duke Elgy to leave the Imperial Palace.
In the past, Duke Elgy was allowed to stay in the Southern Palace in accordance with the customs and reputation of a powerful country like the Eastern Empire. Now that there was an open confrontation between Sovieshu and Duke Elgy, there was no need to keep up appearances.
But although Elgy had caused a scandal and was asked to leave the Palace, he remained in the capital. Sovieshu didn't understand what he really wanted to achieve. As long as Duke Elgy remained in the Eastern Empire, he would be criticized by nobles and commoners alike.
Duke Elgy's actions made Sovieshu uneasy.
"Yes, he has been quiet since he met with Viscountess Verdi."
"With Viscountess Verdi…"
Sovieshu narrowed his eyes. A few days ago, one of his spies reported that Duke Elgy had met with Viscountess Verdi and suggested that she should flee to another country with Princess Glorym.
Sovieshu didn't trust Duke Elgy, but he found his suggestion so interesting that he left him alone.
If Duke Elgy helped Viscountess Verdi flee, he intended to replace Duke Elgy's subordinates on the way with his own subordinates, who would take Glorym to a safe place.
Glorym was too much like Rashta to be raised as a noble in the Eastern Empire.
Sovieshu could not bear to see Glorym raised by another family in the Eastern Empire, nor could he bear to see her face turn into Rashta's.
He didn't have the confidence to show her love like before. However, the moments he spent by her side would not be easily erased from his heart because he truly loved Glorym. He loved the cute little angel who smiled at him while making strange sounds, like 'aba, aba'.
Since Glorym's parents are criminals, Glorym was doomed to become a slave, just like Ahn. But Sovieshu couldn't see the girl he considered his daughter turned into a slave.
Since he pitied her situation, he could make an exception for her to live as a commoner. But would the girl be able to bear the look of contempt from others once she grew up?
For that reason, he intended to give her the identity of a daughter belonging to a small noble family from another country, granting her the money necessary for her to live carefree for the rest of her life.
With this, he would have done the best he could for her welfare and the pain he felt every time he thought of that girl would disappear. At least that's what Sovieshu believed.
"How long until the trial begins?"
"About two hours to go, Your Majesty."
"Well, I'll go rest for half an hour."
With a heavy sigh, Sovieshu left his office and went upstairs to his bedroom.
Once inside, he sat on the bed and gazed with tear-filled eyes at Navier's painting and his daughter's painting.
When he closed his eyes, tears streamed down his cheeks.
***
It was during our stay at the first inn after we crossed the border into the Eastern Empire that I realized that the trial might be more harsh than I expected.
It was there that I learned about the port case and the confessions of Viscount Roteschu and the Isqua couple at their High Court trials.
'Will Rivetti be alright?'
The sentences had not yet been carried out and Rivetti's name had not appeared in the newspapers. Still, I felt worried ever since I read that Viscount Roteschu and his son would be executed.
I couldn't help but wonder what had happened to Rivetti, the girl who cried inconsolably in front of me when she heard about my divorce. I decided to ask someone to look for her.
'I hope she's alright.'
I was sitting at the dressing table looking at myself in the mirror as I reflected on what was happening in the Eastern Empire. At that moment, Heinley knocked on the door.
"Are you ready, My Queen?"
"Yes."
Heinley entered dressed as an ordinary young noble. He was wearing a dark cloak with a hood that he could use to hide his face. The cloak was lined with only gold edges. It was plain compared to Heinley's usual style.
I guess I looked the same way, since I was wearing a similar cloak, only in a different color.
If Rivetti is found, I'll receive a message from Troby Mansion. McKenna had decided to stay at the Mansion, so at least I'll be well informed.
"Are you sure you want to go?"
Heinley asked me one more time before we climbed into the carriage. It was a modest carriage and didn't even have the Imperial Family's crest on it.
I just nodded. Rashta and Sovieshu were the two people who hurt me the most. As the Emperor, Sovieshu was responsible for our divorce… but that didn't mean I didn't also hate Rashta.
Even if I felt uncomfortable at the trial, I wanted to see Rashta fall from the position of Empress.
I remembered how Rashta looked at me with a smile the moment the High Priest mentioned Sovieshu's divorce request in front of everyone, and the moment I agreed to step down from my position as Empress of the Eastern Empire.
"My Queen?"
"Tell me."
"If you feel overwhelmed or just don't want to continue watching, let me know immediately. The knights will be waiting outside, ready to leave at once."
We arrived at the High Court. There were already many people around, so no one focused their attention on us.
We sat in the back of the seating area for the nobility. Some people looked at us, but turned their heads again without paying much attention.
After a while, the door inside the High Court opened and Sovieshu appeared. When Sovieshu entered, the people gathered to witness the trial bowed. He raised his hand in greeting and sat down on his throne.
Shortly after, Rashta entered through the same door, escorted by two knights, one on either side of her. I recognized one of the knights. He knelt before me when I left my room to face the divorce.
Rashta sat quietly next to Sovieshu.
Heinley held my hand to give me strength.
Then, the High Court Judge entered and stopped in front of his seat. The audience fell silent at that instant. The Judge looked around for a moment and spoke firmly.
"We will begin the trial of Empress Rashta for the alleged deception of the Imperial Family, as well as for other crimes."
***
The first witnesses to take the stand were Viscount Roteschu and the Isqua couple.
They had been sentenced to death, but there was no news of their execution. It seems that they were kept in prison.
They reiterated the statements they had made at the previous trial.
Although the audience already knew their testimony, the reaction was as if they were hearing it for the first time.
Rashta watched them testify with a somber expression.
Alan was the only one whose testimony deviated.
"I don't know anything, Your Honor! I really don't know, Your Majesty! Even if it' s true, it was plotted by Rashta and my father. I really wasn't involved!"
As Alan shouted, Viscount Roteschu closed his eyes regretfully and Rashta clenched the armrests of her throne tightly.
"I don't like that woman either, but that man is even more despicable…"
Heinley muttered and clicked his tongue. He wasn't the only one, as all around us voices could be heard criticizing Alan.
Even amidst the uproar, Rashta stared blankly at the witnesses.
After all four testified, the next person to appear was the President of the Bear Corporation?
'Why is he here? … Ah, It's because of the promissory notes.'
"Empress Rashta wanted to use promissory notes issued by our Corporation to support numerous institutions, such as orphanages and nursing homes. But after several investigations, we discovered that those promissory notes did not belong to Her Majesty Rashta, but to Empress Navier."
As I expected, it was related to my promissory notes. Because I declined to testify, the President of the Bear Corporation himself appeared.
"There was an article in the commoners' newspaper that raised suspicions about this a while back. So, was it true?"
"That's right."
"You kept silent at the time. Why are you revealing it now?"
"At that time, public support for Empress Rashta was too strong and her position as Empress solid, so I considered that my Corporation would be the only one affected."
The President of the Bear Corporation was a very intelligent man, who acted strictly on the basis of profit.
Rather than make excuses, he revealed the truth and sincerely apologized.
"It's definitely my fault for not daring to reveal it at the time."
I looked around and noticed that, while all of Sovieshu's secretaries were present, one was absent.
'Where is Baron Lant?'
Wasn't Baron Lant the only one among Sovieshu's secretaries who treated Rashta with affection?
Heinley quickly noticed that I had diverted my attention.
"My Queen? What's the matter?"
"Nothing, it's nothing."
I shook my head and refocused on the trial.
Perhaps because of Sovieshu's presence, the trial proceeded in relative calm, except for the moment when Alan protested.
The next person to take the stand was a woman I didn't know.
She looked familiar to me at first sight… but I couldn't remember her.
As I stared at her, she squeezed the armrests of the stand's seat tightly and spoke.
"I.. was a maid… to Empress Rashta… Delise."
Ah, she was a maid of Rashta's.
"Go on."
"Empress Navier…. rejected… blue bird… that Emperor Sovieshu… sent as a gift… Rashta took advantage… plucked… the feathers… from the living bird… and lied… to Emperor Sovieshu… to blame… Empress Navier."
Her speech was slow and slightly erratic. Combined with the fact that she paused every few words, it gave the impression that she found it difficult to speak.
The way she spoke seemed to annoy the audience. A rough man grumbled loudly, "Why do you talk like that?"
Delise shuddered. Her gaze strayed for a moment, looking for the source of the voice. At the same time, a journalist sitting in the press area stood up angrily.
However, Delise took a deep breath and continued calmly.
"My tongue… is cut in half… Empress Rashta… ordered that… it be cut off… so that… I would not… give her away."
A stir broke out in the courtroom.
"Oh, my!"
"That's crazy!"
"Are you serious?!"
"How could she do that?!"
The audience glared fiercely at the person who had said the unpleasant words to Delise.
Several people around me also shuddered and waved their arms, as if the mere thought of what Rashta had done was horrible.
The High Court Judge looked at Delise with compassionate eyes and asked Rashta.
"That is true, Your Majesty?"
Rashta answered firmly.
"No."
Insults erupted from the audience, but Rashta didn't even blink as she stared at Delise.
The next person to appear was a familiar face… Evely.
Evely testified that Rashta had insulted and harassed her along with the Isquas, who had always looked down on her for not belonging to the nobility. She also spoke about the attack she suffered on the way to the Western Empire.
Next, Viscount Langdel took the stand. He revealed the investigation he had conducted to clear Nian's name.
"… Back then, His Majesty was so blinded by Rashta that he didn't even pay attention to my investigation."
At the end, he added a few words criticizing Sovieshu, but unfortunately this was Sovieshu's home. The audience didn't react positively to Langdel's criticism.
Then Sovieshu's secretary, Marquis Karl, took the stand. He talked about how Rashta always borrowed money from Duke Elgy to cover the expenses of her lover Alan and her first child Ahn, the port case that caused a stir across the empire, and finally, the scandals that had surrounded her relationship with Duke Elgy.
Perhaps because these cases had been made public before, with the exception of Delise's case, the atmosphere in the High Court was not as violent as I feared.
Still, every time a witness appeared and revealed the respective evidence, the atmosphere turned colder.
However, every time the High Court Judge asked Rashta if it was true, she flatly denied it.
After Marquis Karl stepped down from the stand, someone shouted, "Your Honor! There is something I want to reveal!"
It was the same journalist who had stood up angrily when Delise had been offended earlier.
"Who are you?"
When the High Court Judge asked with a frown, the journalist quickly left the press area and went up to the stand.
Like other journalists, he carried a notebook in one hand and a pen in the other, but he also had a document under his arm.
The Judge's aides tried to stop him, but the commoners began to shout his name, "Joanson!", "It's Joanson!", "Joanson!" "Joanson!"
Joanson was a name I had seen in several articles recently. He seemed highly esteemed by the commoners.
"Give this to His Honor."
Because the audience was chanting Joanson's name, the aides could not forcibly remove him. Joanson gave the document to the nearest aide.
"Bring it to me."
By order of the High Court Judge, the aide accepted the document and handed it over to him.
The Judge's expression became distorted as he looked over the document.
The audience was also curious about the change in the High Court Judge's expression, so they stopped chanting Joanson's name and remained silent.
"What document is that?"
When Sovieshu asked on behalf of the audience, the High Court Judge stood up and answered.
"This is a court document regarding a criminal who was sentenced to slavery for fraud."
What did that have to do with Rashta's trial? As the audience murmured in confusion, Joanson quickly interjected.
"That criminal's name is exactly the same as the man who once claimed to be the Empress' real father. His daughter's name is Rashta. Her current age matches that of the Empress. The place where he was sentenced to slavery, along with his daughter, was Rimwell."
The murmurs grew louder. There was a stir everywhere.
"Does that mean Empress Rashta was a slave, not a commoner?!"
"A slave?! Not a commoner, but a slave?!"
"So the so-called representative of the commoners was a slave who shamelessly posed as a member of the nobility?!"
Insults erupted from the section of the hall reserved for commoners.
They screamed and protested angrily, as if this were the most serious crime ever committed.
"Put her down!"
"How dare a slave sit next to the Emperor!"
"She has to step down from the throne and kneel!"
"Good heavens!"
"How dare a slave pose as a noble to become the Empress?! It's a dishonor to the Eastern Empire!"
"Put her down! Put her down!"
In contrast, the nobles were so shocked that they remained silent.
It was clear to me that this was not part of Sovieshu's plans. Although he appeared indifferent on the outside, I could tell that he was very angry.
This shocking revelation and the protests of the audience had completely exhausted Rashta's patience, who had remained calm so far.
Rashta stormed out of her seat to the stand, shoved Joanson, and yelled,
"His Majesty Sovieshu is castrated!"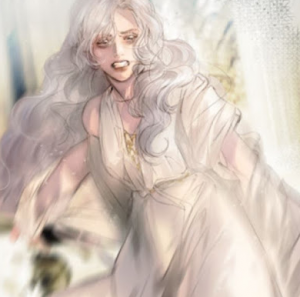 Comments for chapter "Chapter 391"
NOVEL DISCUSSION