Chapter 395. Red Farewell (2)
Translator: Aura / Editor: HB168
---
Afterwards, Duke Zemensia wandered around the mansion for a while. Once he left, Kapmen re-entered the mansion.
Perhaps because he was alone in an empty mansion, Duke Zemensia had reflected a lot, so Kapmen was able to obtain more information than he expected.
At first, Duke Zemensia couldn't really empathize with his father's anger. Although Christa's death saddened him, he didn't think there was any reason to be angry with Emperor Heinley.
Besides, he already had his own children. As much as he loved his sister, he had to take care of those who were alive. Just as his father abandoned his daughter for the future of his grandchildren.
But shortly after, everything changed. Duke Zemensia pretended to have a big fight with his father in which he was thrown out in order to dispel any suspicion from Emperor Heinley.
If his father committed a crime, his wife, children and himself were likely to be harmed. Instead, if he committed a crime, his wife and children might seek his father's protection, since Old Duke Zemensia had been one of the most respected nobles in the Western Empire.
However, Duke Zemensia didn't think about his sudden change of heart or what exactly he was up to, so Kapmen didn't find out his motivations.
[In their happy return, it will be the last time they smile.]
That was Duke Zemensia's last thought. His determination strengthened as he ran his hands over the window frames.
When Kapmen took a closer look at the window that Duke Zemensia stood in for a while, he noticed some unusual marks.
They were marks that the window had been obstructed.
'Is it because of this…?'
Seeing this, Kapmen had an idea why Duke Zemensia had a change of heart, but it was still unclear to him what he was up to.
Kapmen clenched his fists. He hurried out of the mansion, mounted his horse, and headed for the capital.
Duke Zemensia watched him from a distance.
***
After the trial, I went straight to Troby Mansion, but my mother didn't return with me as she had been called by Sovieshu.
"Don't worry, Your Majesty. You can rest assured as Viscount Langdel will be with Duchess Troby."
The deputy commander of the 5th Division of the Supranational Knights, who was escorting me in place of Viscount Langdel, informed me that the Viscount had been summoned by Sovieshu along with my mother.
I was curious about what Sovieshu intended to say to both of them, but my ladies-in-waiting weren't around to discuss it.
Since it had been a while since we were last here, I sent Laura and Countess Jubel to their respective homes.
"Your Majesty, what would you like for dinner?"
I replied to the butler that I would wait for my mother to dine with her. Fortunately, I didn't wait long. She didn't have a serious expression, so it didn't seem like there was bad news, but I wanted to be sure.
"Mother, why did he call for you?"
I asked as soon as she returned. My mother took off her cloak and handed it to a maid with a strange look on her face.
"He told me he will lift Koshar's banishment."
"Really?"
This was good news. It meant that my brother could succeed the Troby Family without trouble.
"And Viscount Langdel…"
"Yes. Viscount Langdel was banished due to his attempt to harm a descendant of the Imperial Family. Since it is now known that Glorym is not Emperor Sovieshu's daughter, I suppose his banishment will also be lifted."
I felt relieved to hear that.
I don't know if Viscount Langdel or my brother will immediately return to the Eastern Empire just because the banishment is lifted, but this was their home for many years.
As I was deep in thought, my mother suddenly began to laugh.
"What's the matter, Mother?"
When I asked, puzzled, my mother shook her head.
"His Majesty told Viscount Langdel that he could understand the difficulties he had been through, but Viscount Langdel replied coldly."
"What did he say?"
"For him, His Majesty's only difference with Rashta is that His Majesty has power, so he did not want his sympathy because in all other ways Sovieshu and Rashta are the same."
I could understand Viscount Langdel's perspective. Although at first he was only angry at Rashta for her actions to smear Duchess Tuania's reputation, Sovieshu contributed by burying the matter, and Viscount Langdel nearly died.
"… Did His Majesty listen to him quietly?"
"Even if Langdel's words bothered him, he couldn't act recklessly. He'll soon have to file a complaint with the Wol Continent Alliance regarding the port case. It's not in his interest to stir up trouble with a commander of the knights of the Alliance."
Sovieshu must have been very angry inside because his pride had been hurt.
After dinner with my mother, I went back to my room alone.
I might eventually feel bad, but for now, I didn't feel that way. In a corner of my chest, I felt as if Heinley danced while in the form of Queen.
Maybe because I saw that Rashta didn't fall easily in the High Court. Also, it was the first time I saw Sovieshu being publicly insulted.
I could say that I felt sorry that Rashta had to remain locked in a tower for the rest of her life, but… those would be empty words. I didn't really feel sorry for her.
This feeling might change later, but not at the moment.
Once I changed into comfortable clothes to sleep, the butler came to inform me of someone's visit.
"Your Majesty. Hmm… there's someone here to see you."
"Who is it?"
"It's Lord Liedreux…"
It's Sovieshu.
As children, Sovieshu and I came up with the idea that we should each use a pseudonym that only the two of us knew so that we could sneak off alone in secret. 'Lord Liedreux' was the pseudonym Sovieshu used back then.
"Your Majesty?"
"Please tell him that I'm asleep."
At my firm words, the butler's expression stiffened, as if he thought my reaction was unusual.
I closed the door, sat down on the bed and closed my eyes.
How long has it been? When I looked at the clock, I realized that two hours had passed.
I got up and walked around the room, then went out into the nearby corridor and looked out the window.
I didn't imagine that Sovieshu would still be waiting for me outside. However… I actually saw him.
His face was covered with a hood, like when I went to the High Court, but it was definitely Sovieshu.
I could feel it.
He was leaning against a wall outside the mansion, and his shoulders seemed to tremble slightly.
I couldn't see him properly because he was far away, but it looked that way in my eyes.
Is he crying…?
After watching him for a brief moment, I turned around and went back to my room.
I closed the windows and lay down on the bed.
The next morning, I didn't even look out the window.
"Navier. You said you'd head back today, right?"
"Yes."
"Why don't you rest for a few more days before you leave?"
"I can't wait to get return. I want to share the good news with my brother."
My parents planned to spend a month in the Eastern Empire before returning to the Western Empire.
Once I had breakfast and spent some time with my parents, I put on the appropriate clothes and boarded the carriage, in which Heinley was waiting for me. This time, we could use a carriage with our Imperial Family's crest.
I didn't want to look out the window. Although I know Sovieshu must have already returned to the Imperial Palace, I just… I just didn't want to see him.
But then I felt that I was thinking too much about Sovieshu, so I quickly changed my mind and looked out the window, to convince myself that I didn't care about him in the least.
The moment the carriage left the mansion and I looked at the outer exterior where Sovieshu was standing last night, I was shocked.
He… was still standing there, and he looked at me. For a brief moment, our gazes met.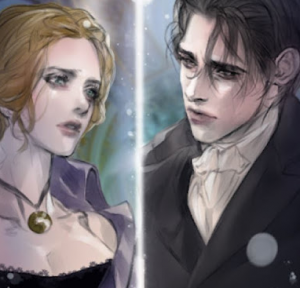 His eyes were filled with dark despair. He seemed to silently ask me for help.
But what could I do to help him?
I hurried to avoid his gaze and rested my head on Heinley's shoulder.
My heart was pounding.
At first glance, Sovieshu's eyes looked like those of a person on the verge of death, and when I turned my head to avoid him, I felt as if I had done something wrong.
"My Queen, are you alright?"
I shook my head, took it off his shoulder, and sat up properly.
"You can keep leaning on me…"
"I'm fine."
Was it I who hurt Sovieshu in our marriage? Not at all.
Was there reason to pity him merely due to his pleading look? Not at all.
As the carriage moved forward, I struggled to find new thoughts that would rid his eyes full of despair from my head.
Heinley, who was looking out the window, suddenly called out to me, "My Queen."
"Really, I'm fine."
When I repeated it to him, Heinley suggested with a smile,
"It's not that. Look out the window."
I didn't want to look. Although we had moved away from Sovieshu, I was afraid to see that look again, begging for help.
"My Queen, hurry up!"
Heinley insisted, so I had no choice but to look out the window.
"Ah…"
At that moment, I could see bright red flags waving as I heard people cheering, "Your Majesty!", "Your Majesty!"
My mind went blank.
All these people had come out into the street to cheer for me.
"Ah…"
I don't know if it had been arranged, but people were continually joining the crowd in the street while others waved the red flags from their homes and their stores. I could see the number of people increasing by the minute. Some were crying.
Then Heinley murmured,
"Are they sorry for what they did at Rashta's wedding parade?"
I shook my head. I don't know. However…
I remembered Rashta's wedding day. The silence of the people towards me, the disdain and the uncomfortable cold treatment.
Those who had shown their rejection of me back then waved red flags to wish me happiness and cheered for me as they slowly followed the carriage.
The corners of my eyes began to itch, and eventually tears slipped down my cheeks.
"My Queen."
Heinley called me softly and hugged me gently.
"My Queen. My wife. Navier."
"…"
"Red symbolizes misfortune in the Western Empire, so it feels a little uncomfortable."
"Heinley."
When I pretended to glare at him for his joke, Heinley laughed and shook his head,
"I know that in the Eastern Empire red symbolizes happiness. My Queen, everyone wishes for you to be happy."
"… Yes."
"From now on only good things will happen. You, me and our child on the way… we will be happy forever."
***
Comments for chapter "Chapter 395"
NOVEL DISCUSSION