Chapter 397. Bloody Tears (2)
Translator: Aura / Editor: HB168
---
"Really?"
"Yes, it seems that the doors and windows were blocked so that not even sunlight could enter."
"It's also said that her death was not a suicide, but a murder."
"Impossible."
"Well, it could be a lie. That man hated His Majesty."
"He could have led a normal life if he had stayed still. Don't you think he felt so bad about not doing anything to save his sister that he killed himself?"
"Yes, that could have driven him to suicide."
"Still, why did he jump on the Empress Navier?"
"I heard that he wanted to die in public. Maybe he thought he could kill two birds with one stone?"
People seemed to gather to talk about Duke Zemensia's suicide. Heinley's Underground Knights went around the capital listening to these remarks, carefully monitoring the people's moods and reactions.
"I never thought that he would commit suicide…"
The chancellor didn't dare mention that he was warned by Kapmen and kept his mouth shut. If it were known that he only kept his eye on the Old Duke despite the warning, the enraged Emperor Heinley might hold him responsible.
Emperor Heinley was usually lenient, but now he was not his usual self and seemed very dangerous. The chancellor feared that the Emperor might explode if he found out about his carelessness.
"What about Duke Zemensia's will?"
"I don't know if it should be called a will, but… it seems that he prepared several letters with similar content in advance."
In the homes of Duke Zemensia's friends, where he stayed after his father pretended to throw him out, dozens of letters were found in which he expressed regret,
'I discovered that Emperor Heinley kept my sister locked up in order to kill her.'
Duke Zemensia had also left letters prepared in other parts of the Western Empire to be made public after his death.
It was even revealed that he often spoke of rescinding his status as Duke because he felt he was going crazy.
Friends who hosted Duke Zemensia testified that he was going crazy. He drank and talked nonsense all the time.
Heinley muttered in a cold voice,
"He wasn't crazy, he was only pretending."
Duke Zemensia's preparations were too thorough for a man who had simply gone mad with remorse.
Even his wife and children were staying in a mansion outside the capital under the pretext that they didn't want to inconvenience his friends.
Heinley sent knights to capture them, but assumed the three had crossed the border and fled to another country.
Just before the collision, Navier reflexively cast her ice magic on the man falling on her, while Kapmen tried to push her away and protect her with his body.
It all happened in an instant. In front of Heinley's own eyes.
Duke Zemensia died on the spot, but both Kapmen and Navier survived because Navier's ice magic slowed down the Duke's fall. However, because she cast the magic on impulse, its effects were limited. As a result, although they were still alive, neither had been able to wake up.
Unable to bear the pain in his heart, Heinley closed his eyes and clutched the left side of his chest as he writhed to hide his pain.
He hated himself for only distrusting Old Duke Zemensia even though McKenna had warned him that the situation seemed strange.
He hated himself for thinking that he could easily use Duke Zemensia after saving his son, after the Duke tearfully thanked him.
If Duke Zemensia had survived the fall, Heinley would have been able to ease some of his pain by unleashing his anger on the one responsible.
But the man who endangered the woman he loved and his unborn child could no longer be punished, as he had died instantly.
His anger, which had lost its target, gnawed at his insides. McKenna looked at Heinley with tears in his eyes.
"Your Majesty…"
Heinley had been unable to cry, and his eyes were bloodshot. He asked McKenna,
"What about Old Duke Zemensia? Has he been caught?"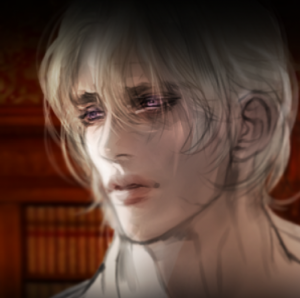 ***
Loud noises and cries of pain came continuously from behind the tightly closed iron door. Blood flowed under the door and formed puddles.
The Underground Knights, whom Heinley had gathered and worked with directly during his years as a Prince, were calm because they knew Heinley's personality. In contrast, the Knights of the Imperial Guard held their breath in fear and clenched their fists.
They still regarded Emperor Heinley as a carefree playboy Prince. Although he had adapted to his duties as Emperor better than expected, it was often attributed to the fact that Empress Navier was by his side to guide him.
However, everyone's opinion changed when the enraged Emperor Heinley ordered that Old Duke Zemensia and his son's corpse be brought to a dungeon, then personally entered and locked the iron door. Since then the cries of pain had not ceased.
They didn't know what was going on inside, what was causing the loud noises, nor how much blood had been spilled on the other side of the door.
After three hours, the cries finally ceased for a moment.
The Knights of the Imperial Guard were relieved and unconsciously relaxed their shoulders and arms, which had been tense all along.
'Is it over?'
***
It wasn't over yet.
When Heinley held out the tool in his hand to the side, Mastas stepped forward and took it.
The Knights of the Imperial Guard shuddered in fear just from hearing the sounds that came from inside the dungeon, but Mastas' expression was indifferent.
She was renowned for being ruthless with her hands, so much so that she was nicknamed 'Blood Hands'. She could be extremely cold even against a person she didn't hold a grudge against, but now she was also furious about what happened to Navier.
She was so angry that she wanted to tear Duke Zemensia's corpse apart with her bare hands.
The Old Duke was trembling as he looked at Heinley. The corners of Heinley's mouth turned up slightly.
"I can't believe I'm doing this to the person I once respected. Doesn't life take very strange turns, Old Duke?"
"You don't have… the qualities… of an Emperor… you can never be… an Emperor."
"I am the Emperor."
With a smirk, Heinley stomped on the Old Duke's head, grinding it against the floor.
"Ah… Ahhh! Even… if you do this… you won't get… anything."
Heinley continued to smirk as he increased the pressure.
"It doesn't matter if you beg, insult, or talk nonsense. Nothing will bring your son back to life."
Heinley's eyes had turned so red that he didn't seem to have a smile on his face.
Old Duke Zemensia's eyes had also turned red. His gaze was on his son, who was now but a shapeless corpse.
When the Old Duke coughed, broken teeth fell from his mouth.
"You killed your brother… you killed my daughter… you killed my son… and now you will kill me…"
The Old Duke let out a laugh that made him feel like his lungs would tear and looked at Heinley.
"Bastard… not even… in hell… will you be accepted."
Mastas frowned to the side.
When King Wharton III was alive, a rumor circulated that Heinley had caused him to become infertile. After the early death of King Wharton III, a rumor circulated that Heinley had poisoned his older brother.
That rumor haunted Heinley like a shadow that refused to go away.
Old Duke was trying to upset Heinley by talking about it.
"Should I shut his mouth?"
At Mastas' question, the Old Duke spat out a mouthful of blood and sneered.
"Did you think no one… would blame you… if you poisoned him? Who… benefited most… from King Wharton III… turning into a sick person?"
Rather than reply, Heinley stomped on the Old Duke again.
The Old Duke trembled, but didn't close his mouth. As if his dead daughter and son had breathed their last strength into him.
"Even if I die… even if my family dies… people will say… the former King died suddenly…. not long after… the former Queen… also died suspiciously… at a young age… her family… who questioned it… and investigated… all died…"
The Old Duke shivered as if he were happy just thinking about it.
"No matter… what you do to me… you will be remembered…. in history… as a cruel Emperor…. no matter how well you rule… you will be remembered… as the Emperor… who killed the former King… and the family of the former Queen…"
"In your situation, Old Duke…"
Heinley sighed briefly and smiled.
"You should have prayed and begged for me to kill you. Do you want to know what will happen now?"
"…"
"Sir Mastas."
"Yes, Your Majesty."
"We must request cooperation from other countries to help us capture all the relatives, servants and soldiers of the man who tried to assassinate the Empress and her unborn child."
"Yes."
Heinley's eyes, bloodshot with anger, turned colder.
"It seems the Old Duke is very hungry."
Heinley looked silently at Duke Zemensia's corpse, then signaled to Mastas, and walked out.
The Old Duke's eyes widened so much that they seemed about to pop out.
***
Comments for chapter "Chapter 397"
NOVEL DISCUSSION