Chapter 400. Sovieshu's Despair (1) //  The title is repeated.
Translator: Aura / Editor: HB168
---
Rashta shook her head as she yelled, but since no one responded she crawled back and curled up next to the bed.
As she trembled, she remembered the moment Delise stuck her tongue out at her with a smile, Pix's severed head, the blue bird's shrieks as she plucked its feathers, how she had to stab Arian in order to run away.
Rashta felt overwhelmed by all her evil deeds and they came to her mind as hallucinations.
"No! No! I'm scared! Your Majesty! I'm scared! Your Majesty, I'm scared!"
Rashta cried and stomped heavily on the floor, but the hallucinations didn't go away.
"Save me, Your Majesty!"
Rashta ran back to the door and pounded on it.
At that moment, a flap at the bottom of the door used for food opened, and a white hand slipped in.
That hand disappeared as soon as it dropped a pill on the floor.
Rashta stared at the pill until she realized it hadn't been a hallucination, and rushed to pound on the door again.
"Open it! Open it! Open the door! Please help me!"
However, the person had already left quietly.
Several hours later, Rashta slowly reached out to pick up the pill.
Rashta looked at the pill in a daze. There was no indication of what kind of pill it was, but Rashta immediately deduced it.
It was a poison pill.
She threw it away.
"What is this supposed to mean?! What do you want to achieve?!"
There was no response.
Rashta took one last look at the poison pill before she quickly went to bed and curled up.
'Do they want to poison me because I was sentenced to life imprisonment? Did they send me that poison pill to die? Do they think I'll swallow it? Never! I'll never swallow it!'
One day, two days, three days passed, and she finally picked up the poison pill. Rashta shuddered as she took the pill in her hands.
There was no way she could bear to stay here for long. As she passed the days doing nothing, the hallucinations increased, and she saw those she had hurt and those who had tried to hurt her.
Navier's gaze on the day of her divorce from Sovieshu appeared incessantly before Rashta's eyes. Similarly, she hallucinated Viscount Roteschu and the Isqua couple, wearing a rope around their necks, grabbing her by the ankles to drag her down.
She had nightmares every day.
In the course of the day, she slept so that time would pass quickly, but at night she couldn't fall asleep, so she trembled with fear in the dark.
What terrified her most was that these days would repeat themselves for decades to come.
Eventually, Rashta decided to take the poison pill.
She popped the pill into her mouth as tears ran down her cheeks.
"Your Majesty, I'm scared. Your Majesty, I'm scared. Your Majesty… why don't you come save me…"
Rashta cried in fear after she swallowed the pill.
The poison quickly spread through her body. She began to tremble and wrapped her arms around herself. In a matter of seconds, she had collapsed.
The spasms were so violent that she couldn't help but roll around on the floor. Her arms and legs wouldn't stop shaking, but her mind became calm in the midst of it. She felt lucky that she wouldn't have to stay locked up for decades.
Rashta looked at the small window high up. She could see a yellow moon.
The moon seemed to look at her with a smile.
'Why are you mocking me?'
Rashta only thought the words, as she couldn't move her lips.
Suddenly, she remembered the first baby she had held in her arms. Curiosity began to rise.
'Whose baby was that? Did the parents who lost that baby suffer as much as I did? Did it leave as deep a wound as it left in me?'
Rashta's eyes slowly closed.
'It doesn't matter anymore. But… if there is life after death, I want to see that baby, alive and well.'
Rashta coughed several times, spitting blood.
'Your Majesty… Even if Your Majesty hates Rashta… Rashta loved Your Majesty very much… Rashta truly loved Your Majesty."
Sovieshu was the man who loved her the most. He was the man who made her the happiest.
… In her fading mind, she suddenly found herself in a dark, cramped room.
Viscount Roteschu handed her the dead baby, but this time the baby was not dead. The baby was perfectly healthy.
After she slapped Viscount Roteschu for lying, Sovieshu arrived to take her away.
He told her that he believed in her innocence, that he was sorry he had locked her up here, and that he would free her.
Once she went downstairs and left the tower, she ran into Delise. Arian was at her side.
Delise's tongue was intact and Arian was healthy. Rashta said she was sorry and burst into tears, and both women comforted her, smiling.
Once Rashta wiped away her tears, she saw two children playing together. She was told that they were Ahn and Glorym. Both had grown up a lot since she'd last seen them.
As she followed the children into a flower-filled garden, she saw Empress Navier from a distance, surrounded by her ladies-in-waiting.
Rashta flustered and swallowed hard.
It was the same Empress Navier from the painting that Rivetti cherished.
Maybe that's why she looked like a princess belonging to a fairy tale rather than a real person.
Rashta called out to her. Empress Navier looked back with cold eyes.
— I am Rashta.
Navier frowned as if she didn't know who she was.
Rashta repeated herself through tears.
— I am Rashta.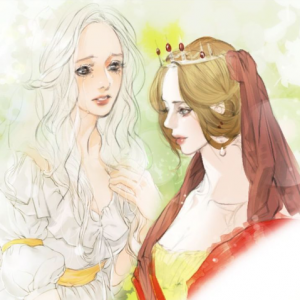 Rashta had always wanted to be like Rivetti. And Rivetti admired Empress Navier above anyone else.
— I am Rashta.
A faint smile appeared on Navier's cold face. Though she didn't recognize Rashta, she hugged her as she had done with Rivetti.
It was a comforting hug.
Before her eyes closed completely, Rashta stopped moving.
The wind blowing through the window made her silver hair flutter in the air as if it had come to life.
Her corpse was found a week later.
***
Comments for chapter "Chapter 400"
NOVEL DISCUSSION