Chapter 408. Sovieshu's Change (1)
Translator: Aura / Editor: HB168
---
Evely came once a day to use her healing magic, I took the medicines prescribed by the palace doctor, and rested in bed, so I recovered quickly.
For a time I believed that I would actually die. Now, my physical condition is almost back to what it was before.
"My Queen, that's only what you think."
However, Heinley disagreed and said that I had not recovered yet.
"I feel like you're exaggerating a bit."
"Exaggerating? My Queen, if it had been the other way around, you'd be as worried as I am."
Despite my look of irritation, Heinley was adamant.
"You're still unwell. You must remain on complete bed rest until you have fully recovered."
"Alright, stop nagging."
When I turned my head away in annoyance, Heinley picked up a small bowl and a spoon from the dining trolley and approached my side of the bed.
"You want to feed me again?"
"My Queen, you're convalescent."
"My hands are fine."
"My Queen, you would do the same for me if it were the other way around."
"…"
"Come on. Open your mouth and say, 'aah'. It's the beef soup you wanted to eat, My Queen."
As much as I wanted to refuse, I couldn't because Heinley used the phrase 'if it were the other way around' as a weapon. There was no way to counter that.
In any case, the time I was in a coma must have been worse for Heinley. I lost consciousness instantly, but he had to endure not knowing whether I would wake up all this time.
My brother, my ladies-in-waiting and my parents, who hurried back to the Western Empire upon receiving news of the attack… all were very worried. McKenna even prayed for me, saying, 'It doesn't matter that I have to take care of all your work, I'll do it without complaint, so please wake up.'
Finally, I opened my mouth and ate the soup.
"I'll make one thing clear. It's not me you're feeding."
"Then who am I feeding?"
"The baby bird in my belly."
"Then, baby bird, open your mouth and say 'aah' again."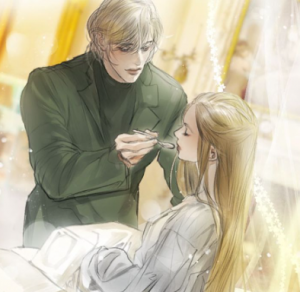 As I obediently ate the soup, I suddenly thought of the Zemensia Family.
I had heard that the culprit, Duke Zemensia, died on the spot. The Old Duke Zemensia was brought in his place to meet alone with Heinley.
Shortly afterwards, all members of the Zemensia Family were arrested and sentenced to death or slavery for the attempted murder of the Empress.
That couldn't be all, so I wanted to know more details. Countess Jubel was the only one who told me a little, albeit reluctantly, and my other ladies-in-waiting kept their mouths shut. So did my attendants and knights.
They all said that it would be best not to listen to such stories for the sake of the baby in my belly. They said that I had been through a lot, and I should only focus on good things.
"Queen? Won't you say 'aah'?"
"Aah."
While Heinley fed me, Laura's anxious voice came from outside the door.
"Your Majesty, Your Majesty! I have something to tell you!"
I excused myself to Heinley and let Laura in. She walked in with a happy expression, curtseyed to Heinley, and exclaimed,
"Your Majesty, Grand Duke Kapmen has awakened!"
I was surprised and tried to get up, but Heinley stopped me. After I scowled at him, I asked Laura.
"What state is he in? Is he fine?"
"I don't know. He's been sitting up in his bed staring blankly ever since he woke up."
Grand Duke Kapmen and Evely were now treated as heroes for saving me, and Laura, being close to me, was full of joy.
I indicated with my eyes to Heinley that I wanted to go see Grand Duke Kapmen.
Grand Duke Kapmen and Evely's actions were not only heroic, but they were truly my saviors. Especially Grand Duke Kapmen, who was more injured than I, and was in a coma until now because he protected me with his own body. I wanted to see him awake and healthy.
Fortunately, Heinley reached out to help me up.
"Let's go together, My Queen."
Grand Duke Kapmen initially stayed in a room for distinguished guests, but after the attack he was moved to the room across from mine so that we could both receive prompt treatment from the palace doctor. This made it easier for me to visit him.
With Heinley's help, I followed Laura and entered Grand Duke Kapmen's room.
He was sitting on the bed with his hands on his knees. As Laura had said, he had a blank stare. He seemed a little confused. At least he had no external injuries thanks to the healing magic, but his body still needed time to return to its previous condition.
Grand Duke Kapmen seemed to hear us enter, so he turned slightly to look in our direction. However, his eyes were still unfocused.
I had a terrible thought. Maybe he had lost his sight. In my head, I asked repeatedly whether he was alright. He should be able to hear my thoughts.
I don't know if it was because he was bothered by the incessant questions I asked in my mind, or if it was just coincidence, but Grand Duke Kapmen's eyes slowly began to focus.
"Oh."
It seemed like I wasn't the only one who noticed the change, because Laura exclaimed with surprise.
As I got closer to Grand Duke Kapmen, his eyes seemed to focus more.
"Are you all right?"
The concern that I had previously expressed only in my mind, came out of my mouth. Grand Duke Kapmen blinked several times.
As I watched him with concern, Grand Duke Kapmen finally spoke.
"I'm fine."
Contrary to his initial blank stare, his voice was calm and precise. Added to that was the fact that he spoke with a certain coldness. He was the healthy Kapmen I remembered.
'Thank goodness… he seems to be fine.'
I sighed in relief and remembered to thank him. Although I had already done it in my mind, I had to tell him properly.
"Thank you."
"… It was nothing."
"I heard that you saved my life. Thank you very much, Grand Duke Kapmen."
"I only did what I had to do."
Grand Duke Kapmen met my eyes with a smile. His usually impassive gaze was friendly and warm. Oh… oh my gosh. My mouth opened a little by itself.
I asked Grand Duke Kapmen with my eyes, 'Perhaps…?'
He seemed to understand and nodded slightly. My mouth opened wide.
Laura looked at me quizzically because she didn't understand what was going on. Heinley looked puzzled too, but I couldn't explain it, so I laughed.
'Grand Duke Kapmen finally got rid of the effects of the love potion!'
***
Comments for chapter "Chapter 408"
NOVEL DISCUSSION