Chapter 409. Sovieshu's Change (2)
Translator: Aura / Editor: HB168
---
An urgent message arrived for Evely from the Eastern Empire. Emperor Sovieshu had been injured, so they wanted her to return as soon as my health was sufficiently improved.
When I heard the news, I remembered the Sovieshu that I saw in my dreams. Was he seriously injured?
"There's no mention that his state of health is serious, so shouldn't he be fine?"
Evely spoke relatively calmly, but it was impossible to tell.
The Emperor's state of health, especially if it was delicate, was not usually communicated fully to the public. On the contrary, there were many cases in which an Emperor set a trap by lying about an illness.
"I wanted to stay longer with Your Majesty…"
"There will be other opportunities. Come visit me from time to time."
"Can I come often?"
"You can come often, but I don't want you to feel pressured."
"Please allow me to visit often…"
"It's alright. Come as often as you like."
Evely clasped her hands together and squirmed on the spot with happiness.
I remembered the racing chariot that Sovieshu sent as a gift when my pregnancy was announced. I asked my attendants to prepare that chariot for Evely. She packed her bags and departed directly for the Eastern Empire.
'He'll be fine…'
After Evely left, I was worried.
Could it be that my curse reached him? Was my curse real? Could it be that my magical ability was not ice, but cursing people?
As I walked slowly around the garden, deep in thought, I heard a voice call out to me not far away.
"Your Majesty."
When I turned around, I saw Grand Duke Kapmen in a wheelchair.
"Grand Duke Kapmen."
After I greeted him with a cheerful smile, the Grand Duke Kapmen's attendant pushed the wheelchair closer.
"Give us a moment alone."
"As you command."
Once the attendant withdrew, I also asked Viscount Langdel to leave us alone for a moment.
"Forgive me, Your Majesty, but I can't leave. I couldn't be at ease if I were separated from Your Majesty."
Since Viscount Langdel flatly refused, I led Grand Duke Kapmen to a nearby room inside the Palace.
Only then did Viscount Langdel agree to stand guard outside while we talked. Other than Grand Duke Kapmen and I, there was no one in the room, and only the ticking of the clock could be heard.
Before, I would have felt uncomfortable being alone like this with Grand Duke Kapmen, since I knew he was attracted to me involuntarily due to the love potion. But I no longer felt that way.
While I hadn't heard a definite answer yet, I was convinced that the love potion had lost its effectiveness after Grand Duke Kapmen fell into a coma.
"First of all, thank you so very much for saving my life."
"We saved each other."
"I don't think that is so."
"If Your Majesty hadn't slowed down that man's fall, I might have died on the spot."
"…You're exaggerating. That was only a coincidence."
'It's just a joke, right?'
Grand Duke Kapmen laughed and fiddled with the glove which he had removed from one hand.
As I watched him fidget with the white glove, I asked the question I most wanted to ask.
"The effects of the love potion…"
"They are gone."
Grand Duke Kapmen answered firmly before I finished my question, and stopped fiddling with his glove.
"Now I can hide it."
"Hide it?"
"How is your recovery going?"
'He seems to have just changed the subject.'
I narrowed my eyes. Grand Duke Kapmen could hear my thoughts, but he ignored them and didn't answer.
Suddenly, I felt like I had overlooked something. Earlier, when Grand Duke Kapmen had just woken up… something didn't fit…
"You look well. Miss Evely is very talented."
The clue I was about to reach in my memories was snatched from my grasp by Grand Duke Kapmen's voice.
It was a pity, but in the end I desisted and replied with a smile.
"Yes, I'm fine. I can't make any sudden movements, but it's better than staying in bed."
Kapmen smiled slightly and put his glove back on.
***
Grand Duke Kapmen remained in the room even after Navier left.
As he gazed at the chair in which Navier had sat, he murmured as if she were still sitting there.
"I only got to hold you in my arms once. It makes me happy that it was to save you."
His voice was too low to be overheard.
Kapmen looked at the empty seat, took off his glove again, and put his hand over his heart.
'It still hurts… but now I can hide it or at least I hope so.'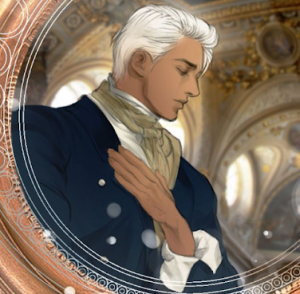 'That's all that matters…'
***
The weather at night was cold and damp.
Buried in the silky golden sheets, I raised my head to look through the window every time the wind blew hard.
I wanted very much to sleep in Heinley's arms, but the palace doctor insisted that I had to sleep in a separate bed until I was fully recovered. For that reason, I was lying alone in my room with nothing to do. Lately it has been the same for the last few days.
Heinley…
"What are you doing?"
Heinley was holding a golden jar which contained something he was sprinkling around my bed, on the window frames, the door frames, and so on.
"Heinley…? Heinley…? Heinley."
I called out to him three times in a row while I was wrapped in the sheets. Heinley, who was busy with whatever he was doing, raised his head and said, "Yes?"
I reached my hand out from under the sheets and pointed to the white crystals he had sprinkled on the window sill.
"What are you sprinkling?"
"Umm…"
Heinley didn't answer immediately and fiddled with the white crystals in the jar.
"If you don't answer, I'll freeze it all."
"I meant to answer. Besides, why do you become so violent? You make my heart race."
"… I make your heart race?"
"Didn't I tell you I like you acting like that?"
"…"
"Oh, I haven't told you yet. Forget it, My Queen. I'll tell you about it some other time."
Heinley walked over to me, picked up a few white crystals, and placed them on my hand.
I held the crystals up to my eyes, but I still didn't know what they were.
"It's salt."
"Salt?"
What kind of salt?
When I looked at him puzzled, Heinley picked up the salt from my hand.
"I'm sprinkling it to ward off the bad energies."
"Bad energies?"
"Even if I were not scared, it is better to prevent it…"
"Do you mean it's to ward off the ghost of Duke Zemensia in case it appears?"
Was he afraid that the man who died during the attack against me would reappear as a ghost? Was that what Heinley feared?
"Ah, I suppose that's right."
Before, during the ghost's commotion caused by Marquis Ketron, Heinley was never afraid. He pretended to be scared in front of me, but I was convinced that he really wasn't.
But now that I saw him sprinkling salt everywhere, my conviction disappeared. Is he really afraid of ghosts?
As I watched him, he took a blue jewel from his pocket and waved it over the salt.
"Is that an aromatic sea jewel?"
"Yes."
It was said that aromatic sea jewels drive away impurities and curses…
"It's safe now, isn't it, My Queen?"
"I would have felt safe even without all this."
"Not me. Like I told you, I'm scared."
Heinley murmured as he approached me.
"Please comfort me. I'm scared."
Then he leaned forwards to kiss on my cheek. No, he almost did. Heinley stopped short just before his lips grazed my cheek and pulled back.
"Heinley?"
Why didn't he kiss me?
As I looked at him with curiosity, Heinley awkwardly touched the corner of his mouth. Then he suddenly picked up the jar of salt again.
"I'll sprinkle some more."
Heinley?
***
In the luxurious bedroom, the courtiers whispered as they turned their gazes from time to time to the canopied bed.
It was the third day after Emperor Sovieshu had fallen out of the window. He had injured his right arm and leg, but his injuries didn't seem so severe that he should still be in a coma. However, Emperor Sovieshu was still unconscious.
At first, the courtiers waited calmly for Sovieshu to wake up, but on the second day they began to whisper among themselves.
Some said that pitiful cries could be heard from the tower where Rashta had died, while others said that Rashta seemed to be trying to take Emperor Sovieshu away.
"Could he have seen Rashta's ghost?"
"Hush, don't say sinister things!"
"Don't you think it's a possibility? Although he wasn't seriously injured, he hasn't woken up for several days…"
At that moment, a muffled voice came from the bed.
"Who is Rashta?"
It was the voice of Emperor Sovieshu.
The courtiers looked at each other in surprise. When they belatedly came to their senses, they began to call out to him.
"Your Majesty?"
"Your Majesty!"
The curtains around the bed were pulled open abruptly, revealing Emperor Sovieshu sitting in an uncomfortable position, one hand on his head.
"Damn. My head hurts."
As Sovieshu muttered under his breath, a courtier came out of the room and the other two quickly approached him.
"Your Majesty, are you all right?"
"How do you feel, Your Majesty?"
"If you fools didn't make such a fuss, my head wouldn't hurt so much."
Sovieshu waved his hand impatiently and the courtiers became quiet. Only then, Sovieshu removed his hand from his head and asked with a serious expression.
"What happened to Navier? Is she all right?"
The courtiers remained silent. They looked at each other, bewildered, as a similar question popped into their minds.
'What is His Majesty talking about?'
However, they soon remembered what had happened.
'Ah… Empress Navier had been seriously injured. His Majesty wants to know if any news about her condition has arrived.'
"We still have received no news."
At a courtier's answer, Sovieshu got out of bed and stood up.
"I'll go see her myself."
'He intends to go to the Western Empire? He shouldn't even be walking in his condition!'
The courtiers waved their hands in concern. The palace doctor had ruled out a serious injury, but Sovieshu certainly needed rest because of his broken bones in his right arm and leg. He should not get up yet.
As expected, Sovieshu immediately clenched his teeth in pain and staggered.
The courtiers held him at the same time. By this time, Marquis Karl and the palace doctor had arrived.
"Your Majesty!"
"Oh my, Your Majesty!"
Sovieshu, who leaned on the courtiers' shoulders for balance, looked quizzically at Marquis Karl and the doctor who were rushing to him and seemed close to tears.
Then Sovieshu murmured with a frown.
"Your Majesty…?"
Before he finished what he wanted to say, he suddenly raised his eyebrows, looked back at Marquis Karl and asked in bewilderment,
"Marquis Karl? How has your beard grown this much… and in one day?"
Marquis Karl, who was about to tearfully ask Sovieshu if he was alright, paused.
'What is he talking about?'
He thought he had misheard, but Sovieshu's finger was pointed precisely at his beard. Marquis Karl ran both hands through his beard.
"Your Majesty? I have had this beard for five years now."
"What?"
Sovieshu's expression twisted a little. It was as if he had heard nonsense.
"What are you saying? You always apply weird creams on your chin and above your lip because it won't grow. You mean it worked so well that you grew a beard like that in one day?"
The courtiers looked at each other. Marquis Karl's eyes narrowed and the doctor's mouth fell open, so wide that it seemed his jaw would drop to the floor.
Sovieshu looked at them all even more puzzled.
"Also, why did you break into my bedroom without permission, Marquis Karl? Why are all these people gathered in my bedroom? Why do you call me Your Majesty?"
The palace doctor covered his mouth with both hands. Although Marquis Karl was not a doctor, he understood something about Sovieshu's strange condition.
But Sovieshu, who had plunged those present into confusion, looked at everyone as if they were crazy and headed for the door.
"I need to see Navier first. Before I fell, I clearly saw that she was about to be hit by the peaches."
Sovieshu staggered out of the bedroom, but no one stopped him.
Marquis Karl was the first to come to his senses. He called the Knight Commander, who was waiting outside the bedroom, and followed Sovieshu. The Commander rushed to Sovieshu's aid. Leaning on his shoulder, Sovieshu struggled down the stairs leading to the Western Palace and continued down the corridor.
'Damn, I think I broke my leg,' Sovieshu thought.
Marquis Karl followed him in silence while thinking, 'No, no, it can't be'.
"Your Majesty, isn't Navier… in the Western Empire?"
Sovieshu muttered as he walked, clenching his teeth in pain.
"What? How would Navier be in the Western Empire? Just yesterday we sneaked out to pick peaches."
"…"
Marquis Karl stroked his beard with one hand. Although it might be hard to accept, he now had no doubts. Part of Sovieshu's memory… had disappeared.
Furthermore, Sovieshu's memory seemed to have halted sometime during his days as the Crown Prince. Around the time that he was between 18 and 19 years old.
At that age, Sovieshu had once climbed a large peach tree, to pick some of the delicious ripe peaches for Navier.
Navier, in her days as Crown Princess, was under a strict diet to control her weight whenever an important celebration approached. Sovieshu would sneak food to her whenever he could, and that had been the first time he had climbed a tree.
Although it was unusual for the Crown Prince to climb a tree, he might have obtained the idea from a romance novel and decided to do the same for Navier. In any case, Sovieshu managed to climb up the tree, but fell abruptly as he pulled a handful of peaches, which hit Navier on the head and caused a bump.
Apparently, Sovieshu thought that these events had happened the day before.
"Your Majesty."
Marquis Karl spoke in a deep voice.
"Why is everyone acting so strange?"
Sovieshu looked at Marquis Karl with annoyance and rubbed his injured arm.
"I don't understand anything, starting with your beard. Why do you call me Your Majesty…? No, wait, why was I lying in my father's bedroom?"
"Your Majesty."
"I'm sure when I climbed up the peach tree…. Damn! The peaches! Navier!"
"Your Majesty."
"First, let's check that Navier is alright."
"Your Majesty."
As Sovieshu tried to hurry, Marquis Karl called out repeatedly.
"Let's see Navier first, Marquis Karl. It seems that she will also hit me with her pillow today. Navier might put peaches inside the pillow to make the blows stronger."
"… Your Majesty fell from a second story window, not from a tree."
"What are you saying?"
"As I said, Empress Navier is not in the Palace."
Sovieshu paused for a moment and asked with concern.
"Has she gone away because she's angry? Did the peaches hit her that hard?"
Marquis Karl answered with sorrow.
"Navier… married another man."
Comments for chapter "Chapter 409"
NOVEL DISCUSSION