Chapter 415. I Must Go (2)
Translator: Aura / Editor: HB168
---
I didn't know if it would really be a whole week, but what is certain is that Heinley has avoided all physical touch for several days.
Honestly, I wasn't afraid of the curses sent our way by the Zemensia Family, unlike Heinley.
However, I have had nightmares.
I haven't had nightmares like this since my divorce. They came up again after the incident in which my baby and I almost died. In these nightmares I always looked up in fear.
If Heinley had been by my side to take care of me during this time, I would have felt safer and reassured. However, Heinley still avoided me as if he had a contagious disease.
"Your Majesty, have you heard? News has spread that Rashta has died."
"Rashta…"
"Yes, she committed suicide in the tower where she was locked up after she was deposed…"
The news of Rashta's death made me feel uncomfortable.
Laura was the one who told me the news. She also hated Rashta very much, but as she spoke, she seemed disturbed.
It was not easy to speak ill of a dead person.
"Oh, that's wonderful news."
Yet Countess Jubel did not feel any of that.
"It's a relief not to have to bow to her when I return to the Eastern Empire."
Laura nodded with a serious expression and asked,
"What will His Majesty Sovieshu do now? Will he remarry?"
As long as the ruler of a country remains unmarried, there will be pressure from all sides to marry. Every day will be more strenuous and difficult. Sovieshu deeply desires to have his own children, so I think he'll remarry soon.
After we talked about Rashta for about three hours, I ate a light meal, lay down on the bed and clasped my hands together, feeling somewhat restless.
In the Eastern Empire I used to turn to work whenever I was going through a difficult time. I liked to distract myself with work, so that when I reconsidered my personal issues, I could be as objective as possible.
But now I couldn't work all night to relax because I was in the process of recovery while also being pregnant.
Heinley wasn't currently giving me strength either.
As I tried to fall asleep, I felt a large hand caressing my hair. When I opened my eyes I saw Heinley. It seemed that my thoughts and emotions had finally reached him.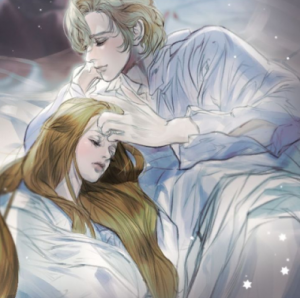 "My Queen?"
I tried to call his name. I was surprised to feel his touch after a long time. He hadn't touched me for fear of superstitions. Does he have the courage now? When the thought crossed my mind, I no longer felt sleepy.
I spoke coldly,
"You said you didn't want to touch me."
Heinley laughed and denied it.
"I never said I didn't want to, My Queen."
"Aren't you worried about touching me anymore?"
"My Queen seemed to suffer."
"I didn't suffer in the least."
"But I suffered."
"…"
"Why do you look so sad?"
"Me? No, I'm not sad. It's just that I feel restless because so much has happened at once."
It was hard for me to understand my own words because my voice became hoarse. I coughed to clear my throat and Heinley pulled the sheets up to cover me. When I coughed again, Heinley put his hand on my forehead with a worried expression.
"Did you catch a cold?"
"No."
My cough wasn't due to a cold, but I felt happy to have Heinley so close to me. Heinley continued to ask questions about my health, and I sleepily answered each one while resting my head on his chest.
"My Queen."
Heinley spoke rather seriously.
"Do whatever you want."
"Why do you say that?"
"I think you're sad."
"Me?"
"Well, from what I've researched, there are times when a pregnant woman becomes sad…"
'Really?'
Heinley examined my expression and asked,
"Do you want to go on a picnic? Or do you want to look at the jewels on display in the Gem Room? Or would you rather see my private jewelry collection, My Queen? That will make you feel so much better."
"Umm, I don't know."
"How about a boat ride? Or should we invite a theater company to put on a play for us here in the palace?"
I wasn't convinced at first. But as I listened to Heinley, little by little, I began to agree. What I needed now was to keep my mind occupied.
"Then, Heinley…"
"Tell me, My Queen."
"I would like to work."
"… What you want to do to feel better is… work?"
"Yes. I won't push myself too hard."
Heinley's expression turned ambiguous, with traces of sadness and pain.
"Heinley?"
I caressed the corners of his eyes with my fingers, and he took my hand and pressed it to his cheek, narrowing his eyes as he muttered,
"I'd be very happy if McKenna told me that he wants to work twice as hard rather than slack off. But coming from My Queen, it hurts in my heart."
That was a little funny… but at least Heinley understood me. He seemed to realize that no matter how much time I was forced to rest, it wouldn't help me recover.
The next day, Heinley summoned the palace doctor and McKenna. The four of us spent two hours determining what work I could do without too much effort.
That afternoon, I was finally able to participate in a meeting.
It was certainly an effective medicine, in contrast to taking a walk or sitting in a chair for no reason. While the officials loudly expressed their opinions, arguing with so much fervor that their veins bulged, frantically shuffling papers from one side to the other, I kept track of the meeting agenda and wrote down the conclusions.
The chancellor, who was in charge of running the meeting, suddenly frowned right before he reached the last item on the agenda.
"What's going on?"
At Heinley's question, the chancellor raised his eyebrows and quickly looked at me.
'Why is he looking at me?'
"Chancellor?"
Heinley spoke sharply, as if he found the chancellor's attitude unacceptable.
"Oh, forgive me."
The chancellor coughed a couple of times and then apologized.
"We have received a request from the mining town of Yorne. Every year, there is a flood around this time…"
'A flood? Why did the chancellor pause?'
The chancellor looked at me again.
'Why does he look at me? Does he intend to blame me for the flood?'
As I looked at him, puzzled, Heinley cleared his throat briefly and tapped the armrests of his throne.
The chancellor was startled and hastened to continue,
"They have heard that Your Majesty is a great ice mage, so they have asked Your Majesty to help them with Your Majesty's magic."
A Great Ice Mage? …Me?
Comments for chapter "Chapter 415"
NOVEL DISCUSSION