Chapter 416. An Easy Task (1)
Translator: Aura / Editor: HB168
---
I heard the sound of suppressed laughter next to me. When I turned my head, I saw Heinley biting his lip.
Was it so amusing for him to hear someone say that I'm a Great Mage? I suppose it's because he knows I haven't mastered my magic. Still, isn't he laughing too hard?
I glared at him, but Heinley seemed unable to meet my eyes as he tried to stifle his laughter.
So I sighed and turned my attention back to the chancellor.
Well, it was my fault that it was believed that I was a Great Mage, since I didn't clarify that matter fully before.
Since Heinley seemed unable to speak, I would let him fight his laughter while I inquired about the situation.
"Chancellor."
"Yes, Your Majesty."
The chancellor, whose look made me feel uncomfortable, turned toward me and answered immediately with a smile.
"You can ask me whatever you want, Your Majesty. I will answer honestly."
Why was he speaking so amiably? He didn't used to be like this.
The officials around me exchanged whispers,
"I've seen others act like that."
"Isn't that a false kindness?"
In any case, the chancellor looked at me with clasped hands and a broad smile.
It was somewhat annoying… appearances can be deceiving.
"Since this area becomes flooded every year, hasn't a barrier been built?"
"Every year the dam is rebuilt."
'Every year?! The whole dam?!'
The chancellor continued in a serious tone, as if he guessed what I was thinking.
"The dam also collapses every year."
I had no idea that construction techniques in the Western Empire were so bad.
"Why is that?"
No, I don't think that poor construction techniques are the reason.
"It's because of the water dragon that lives at the bottom of the river."
"You mean the water dragon always destroys the dam?"
"Yes."
The chancellor sighed heavily.
"The problem is that no one can predict when it will destroy the dam. It's better when it's after the annual flood, but sometimes, as right now, it destroys the dam before the flood is expected."
"Doesn't the water dragon destroy the dam while it's under construction?"
"No, it always waits until the dam is fully built to destroy it."
The chancellor sighed again. He seemed to have suddenly aged 25 years.
"Besides, it is able to destroy the dam no matter how strong it's made, so the dams aren't made too sturdy, otherwise the expense would be greater."
"So this isn't the first time this has happened?"
"That's correct. Whenever the flood coincides with the collapse of the dam, we must evacuate to a small village nearby that serves as a refuge. But the townspeople hope it will be different now because they heard about Your Majesty's amazing ability."
Heinley, who had just managed to win the difficult battle against laughter, bit his lips once more when the chancellor referred to my "amazing ability."
I knew it. The chancellor seemed to suspect that I actually concealed my magic because my ability wasn't that useful, so now he brought this out to make me look bad for fooling the nobility. I could also hear the officials exchanging whispers again.
I tried to hide my embarrassment and spoke honestly.
"I'm sorry, but my magic isn't enough to freeze all the water that overflows in a flood."
"I understand. We'll handle the flood as we normally would."
The chancellor seemed a little disappointed, but he didn't insist. It was clear that he didn't have high expectations.
Given my fame as the Ice Empress, most people might think it was an incredible coincidence that I was actually an Ice Mage. The Chancellor must have found it unlikely that I was also a Great Mage.
There are few mages, and each possesses a unique ability. Even when mages have similar abilities, they could be easily distinguished because of the variations in mana control and the way an ability is performed.
Being a mage is extraordinary in itself, since mages are so rare. Among mages, however, there is a subset of even more extraordinary and powerful mages. Most of the latter mages belong to the Eastern Empire.
This matter was dropped soon after and was not touched upon further.
"It happens every year…"
I kept thinking about it even after the meeting ended.
"My Queen, it's not your duty to use your magic to deal with the flood. Don't blame yourself."
'I don't actually blame myself, but I am worried… Am I so worried because they asked for my help to solve it?'
In any case, that night I used the bathwater after taking a bath to find out if I could stop the flood.
'… It will not work.'
I couldn't even freeze the bathwater. It would be impossible for me to freeze the overflowing river.
"My Queen, what are you doing? Can I come in?"
As I watched some ice cubes float in the bathtub, Heinley called out to me from outside. When I opened the door, Heinley came in, looking worried.
"Are you alright? I heard strange noises."
"I'm fine. I was just practicing my magic."
"Magic?"
As soon as I pointed at the bathtub with my finger, Heinley's eyes widened and he showed his admiration.
"You made some ice cubes? I see you've gotten better at using your mana, My Queen."
"… I wanted to freeze all the water in the bathtub."
"Oh…"
Heinley looked around aimlessly. He seemed to think he had misspoken and was trying to find the words to fix it… but he didn't seem to know what to say.
"Well, if you consider how little time has passed since you became a mage, you've improved fast…. right?"
'Why does he ask me? Why does he seem so unconvinced?'
When I pinched his cheeks, Heinley laughed and looked me in the eyes. Then he lifted me in his arms effortlessly, walked out of the bathroom, and put me on the bed.
"I'm sorry, I was just kidding. You really have improved fast. It hasn't even been a year."
"Still, it's disappointing."
"My Queen, even if you were able to freeze the entire sea, not just the river, you can't go there and overexert yourself in your current state."
"…"
"Healing magic will lose its effectiveness if you become too weak, My Queen. Besides, our baby eagle is completely dependent on you. It is not good for you to overexert yourself."
Our baby eagle…
I put my hands on my belly.
Heinley was right, I've always put my duties before myself. Even if I had the power to prevent the flood right now, it would be difficult to go all the way to that mining town and use my magic at such a large scale.
"My Queen… Navier…"
While I was lost in my thoughts, Heinley's voice snapped me back to reality. He was smiling. He had one knee on the floor as he rested his chin on the bed.
"What is it?"
When I asked the question, he looked so cute that my hand moved on its own to his hair. As I gently brushed back his hair, Heinley closed his eyes to enjoy my caresses. When I was about to withdraw my hand, Heinley took it and kissed it.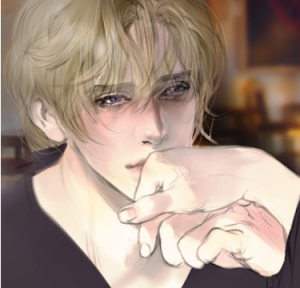 It tickled every time his lips touched my hand, so I couldn't help but giggle. Then, Heinley bit my fingers sweetly.
Every time his tongue brushed against my fingers, I shivered.
'Does he feel the same way I do?'
Heinley looked at me as he repeatedly bit my fingers. His deep and captivating gaze made me feel an inexplicable warmth. As I gently moved my fingers inside his mouth, Heinley narrowed his eyes and let out a soft moan of delight.
"My Queen… I like this."
However, it didn't last. Heinley's expression soon turned serious, he stepped back, and went into the bathroom.
When he left, the heat I felt earlier disappeared.
"The ice cubes were very helpful… I had lost my mind, My Queen."
Heinley walked back into the room muttering. He sighed, then slipped under the sheets with a helpless smile.
***
Comments for chapter "Chapter 416"
NOVEL DISCUSSION