Chapter 419. Heinley's Birthday Wish (2)
Translator: Aura / Editor: HB168
---
The solution to prevent the destruction of the dam was a measure to deal with the next flood. It was not a defense plan for the present occasion.
The Jewel Dam had to be built more carefully than a normal dam, so it wouldn't be easy to finish in a year.
But the flood was just around the corner. Would the townspeople really have to evacuate?
I kept thinking about this for a few days, but I still didn't have an answer.
On that rainy day, I walked deep in thought around the garden, when someone gently took my umbrella. When I looked to the side in surprise, I saw Heinley with one hand behind his back while he held the umbrella for me with the other.
"What are you thinking about so deeply that you didn't even notice my presence?"
The moment our gazes met, his lips curved into a smile.
Perhaps he had been caught in the rain on the way, his hair, his body and even his lips were wet.
If no one had been around, I would have stood on my tiptoes and kissed his captivating lips.
To hide my regret, I acted nonchalant.
"I was wondering if there was a way to build a dam in a short time."
Heinley chuckled.
"It's not possible to do that, My Queen."
"I know. The disaster would be worse if we hastily built a dam unable to withstand the flooding."
Heinley nodded in agreement. As I walked by his side, my unease due to the situation faded away and I felt comforted.
Maybe it's because I liked to walk by his side in the rain.
After we walked like this for a while, Heinley hesitantly confessed.
"To tell you the truth, I feel a little inferior to the Eastern Empire."
What is he talking about?
When I looked at him, puzzled, there was a dissatisfied smile on his lips.
"Heinley?"
"I don't know how I would feel if the gap was wider. But even though the gap isn't so wide, it makes me sad to always be behind someone else. In this case, the Eastern Empire."
I didn't understand, but… I took his hand anyway.
Heinley squeezed my hand, raised it to his lips and kissed it, then he swore,
"As Emperor, I'll make sure to lay the foundations of the Western Empire so that the next generations won't feel the same way."
"What happened?"
"The magnitude of My Queen's ideas exposed the gap between the Western Empire and the Eastern Empire."
'I was the one who made him feel that way?'
Suddenly, I remembered that he had prepared for many years to fight a war against the Eastern Empire… and that he gave up the war for me.
Was Heinley thinking about that?
I couldn't help but feel sad and sorry, so I held his hand tighter. I didn't know just how deep his desire to conquer the Eastern Empire was.
But if he always thought about the gap between the Eastern Empire and the Western Empire… it could be due to his sense of inferiority.
I lost my confidence for a moment.
Heinley loves me deeply now, but I feared that one day he would regret it. I feared that he would regret giving up his dreams for me.
If his regret grows too much, I'm afraid that his love for me will fade away.
Although I shouldn't think about it on these happy days, it was impossible not to worry.
At that moment, the wind blew very hard and the rain became wild. Despite the umbrella, the wind swept my hair into my face and I got wet.
As I pushed my hair away, Heinley pulled me into his arms to shelter me from the rain. I felt warm in his arms. When I leaned into his chest, Heinley wrapped an arm around me tightly.
It was quite a while before Heinley let go. Unlike me, Heinley was more wet than before. Raindrops slid down his face, making it look like he had cried.
When he let go, the warmth disappeared and I felt chills. As I shivered with my arms wrapped around my own body, Heinley put his hand on my cheek and smiled slightly. As he touched me, the warmth began to spread through my body again.
I felt so warm that I closed my eyes and he took the opportunity to kiss the tip of my nose several times in a row.
***
When I returned to my room, hot water for my bath was already prepared. I was about to enter the bathroom, but I turned to look at Heinley.
There should also be hot water ready in Heinley's room, but he had followed me to my room. Our gazes met and Heinley spoke with a cute smile on his face.
"Go take your bath first, My Queen."
"Aren't you going to go take a bath?"
"I want to stay here for a while. Close to you."
Laura flushed and ran into the bathroom.
Countess Jubel pretended not to hear a word, but the corners of her lips turned up in a naughty smirk. Rose, who was humming while making tea, fell silent in surprise.
Heinley stared at me with that cute smile. His expression caused an unexpected proposal to slip out.
"Do you want to take a bath with me?"
Heinley's smile faded at my words. His expression turned stiff and his mouth fell open, as if he had heard something completely unthinkable.
I averted my gaze as I awkwardly touched my hair. I hesitated for a moment, but in the end I went into the bathroom without waiting for an answer.
I spoke impulsively. It was a really stupid proposal.
It's all because of the rain. Yes, it's because of the rain. In the middle of the rain he showed me his weaker side, which made me realize how much he gave up for me. Especially because of the raindrops that slid down his face, making it look like he had cried.
"Gosh, I was taken by surprise just now. The Emperor is really sweet around Your Majesty."
Laura, who was waiting for me, rushed over to help me take my clothes off.
But Heinley suddenly walked in and Laura hastily withdrew her hands and greeted him.
"It's a pleasure to see Emperor Heinley."
She had already greeted him. Perhaps Laura was so shocked when Heinley came into the bathroom that she forgot. When he gestured at Laura to leave, she looked at me in bewilderment, as she didn't know about my proposal to Heinley.
Once I nodded, Laura flushed up to her ears and walked out. Countess Jubel and Rose followed her, after leaving the cup of tea on a small table near the bathtub.
After the bathroom door closed behind them, Heinley took off his coat, hung it on a perch, and started to remove his shirt.
"Do you really want me to take a bath with you, My Queen?"
"… You should have asked that question before you started taking off your clothes."
"That means you changed your mind."
"It means I'm thinking about it."
Heinley quickly took off his shirt and tossed it aside before I could finish thinking about it. His chiseled chest and smooth skin were revealed before my eyes. As he had been drenched in the rain, his skin seemed especially damp.
I was starting to think that it would be better if we bathed separately, but I changed my mind as soon as I saw his naked upper body.
'We're married, so what does it matter if we take a bath together?'
As I wrestled with the little devil inside me that tempted me to do it, Heinley came up behind me, nibbled gently on my ear, and whispered.
"Are you still thinking about it?"
I shook my head reflexively. Then, I heard him chuckle, followed by a series of soft kisses on my ears, cheeks and neck.
"Navier."
"Heinley…"
"I'll never regret it."
"!"
His right hand slid down my right arm until he reached my hand and intertwined our fingers together.
As he kissed my neck, he whispered softly.
"I'll never regret it, so take that expression off."
"What expression?"
"That anxious expression."
With one hand he firmly held my right hand and with the other he helped me take off my clothes.
'Why did he say that I seem anxious?'
I didn't feel like arguing, so once we entered the bathtub I simply laid my head against his chest. Leaning against him, his chest felt very warm and I could hear his heart beating loudly.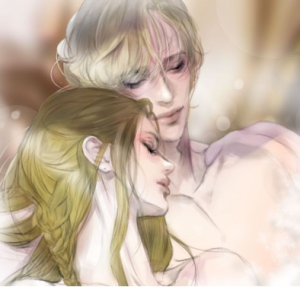 Every time I moved my head slightly, Heinley laughed as if it tickled him.
***
"I shouldn't have agreed to bathe together."
As we bathed, Heinley regretted it exactly 39 times. He spoke like it had been psychological torture for him…
But I felt very satisfied and enjoyed the warmth of his naked body that I needed so much. And although Heinley acted like it was torture, his flushed face said otherwise. He looked happy and pleased.
After the bath, we flirted and laughed while lying side by side on the bed in my room.
Maybe because I was sleepy, talking nonsense while looking into his purple eyes made me feel like I was on a cloud. Laughter flowed naturally from me as if I were drunk.
As time passed, sleep overcame me and my eyes began to close.
"Your Majesty. Your Majesty the Emperor. Are you still awake?"
I heard McKenna call from the other side of the door.
Heinley frowned, but quietly got out of bed to open the door.
"What's wrong?"
Wrapped in the bedsheets, I watched Heinley from the side. His expression became stiff, and was quickly followed by a cold smile. What news had McKenna brought?
I couldn't hear their voices, so it was impossible to tell.
Soon after, McKenna left and Heinley returned to bed. But rather than lie down next to me, he just sat on the corner of the bed with a worried expression.
"What happened?"
When I asked with unease, Heinley looked down helplessly.
"Heinley?"
"Emperor Sovieshu wants to stay here for two weeks to recuperate."
Comments for chapter "Chapter 419"
NOVEL DISCUSSION