Chapter 420. Enthusiastic (1)
Translator: Aura / Editor: HB168
---
"Sovieshu? Here?"
"Yes."
Heinley's mood collapsed in an instant. It was like a bright sunny day suddenly becoming gray and dreary in a matter of seconds. His expression was so bad, it seemed permanently etched on his handsome face.
Although he kept his mouth shut, I could tell how unhappy he was about the situation.
I didn't want to see him down, so I caressed his face to try to comfort him. Only then did his mood and expression improve a little. He rested his cheek on my palm and sighed.
"I don't know why he has to come here to recuperate. His country is larger and has many nice villas."
I patted him on the shoulder without saying a word. What could I say that would comfort him in a time like this?
"Damn…"
He muttered under his breath.
Sovieshu sent Evely to treat Grand Duke Kapmen and me only weeks before, though he was under no obligation to do so. Now that he was asking to stay here for two weeks, it was difficult to refuse because of the help we received. Besides, it would be inappropriate not to let him come, given his position.
Heinley knew all this, which was why he sighed helplessly.
"Could it be that Emperor Sovieshu still has feelings for you? I'm nervous, My Queen."
"I love my husband, Heinley. And that is you."
"Even so…"
Heinley bit his lips, lowered his gaze, and soon after, in the blink of an eye, he turned into 'Queen'. He hopped onto my lap and embraced me with his wings.
"Heinley."
Poor thing.
When I held him tightly, his body trembled.
"Heinley."
— Gu…
"It wouldn't be wise to refuse, but we can borrow a group of mages in exchange."
— Gu…
"If we borrow mages with earth-related abilities, we can at least build a temporary dam."
— Gu…
Heinley nodded somberly amid his sadness, perhaps he had also thought of the mages. I rubbed his little head and pampered him.
He shouldn't be nervous.
Well, if our roles were reversed, I'd be nervous too. In fact, I'd even be angry if Heinley's ex-wife came here to 'recuperate'.
It was inevitable that Heinley would feel this way. All I could do was try to reassure him.
***
— Your Majesty is welcome to stay in the Western Empire during your recuperation. Due to the fresh air and beautiful landscapes, our country is a fantastic destination to relax, so it will certainly benefit Your Majesty. In fact, you ought to stay longer than two weeks. On second thought, it may be impossible due to your busy schedule.
— We need to build a temporary dam urgently, so we would like Your Majesty to help us by providing mages with earth-related abilities, if it's not an inconvenience.
— We eagerly await your visit…
In the Eastern Empire Emperor's office, the voice of Emperor Heinley's envoy clearly resounded.
Sovieshu nodded as he listened attentively to the letter being recited word for word. As soon as the envoy left, Sovieshu muttered sullenly.
"The Western Empire is a 'fantastic destination', I assume that by that he meant, 'what need do you have to come to our country'. He also doesn't want me to stay longer than two weeks, those are empty words. Then he asks to borrow mages if "it's not an inconvenience," but that sounds like a threat. He is hinting that my stay there won't be pleasant if I don't lend them the mages, right?"
Marquis Karl coughed and nodded slightly.
"Your Majesty has interpreted the letter too harshly, but it's certainly possible that you are correct."
Sovieshu snorted.
"What's so fresh about the air in a country full of mines? If he really wanted to boast about his country, it wouldn't be about its landscapes."
His words sounded a little dismissive towards the Western Empire, but honestly it was true. In terms of climate, air and landscapes, the Eastern Empire was better.
However, a smile appeared on Sovieshu's lips even as he grumbled.
'I'll finally be reunited with my wife, who was always by my side.'
Despite his wretched situation, he was happy to know that he would soon see Navier.
Sovieshu folded the letter and handed it to Marquis Karl. He then rose from his seat and walked to the window with his hands behind his back.
Marquis Karl and the Knight Commander, still traumatized by his fall through the window, quickly approached Sovieshu.
"I'm not going to jump, so stay away."
"Your Majesty, you didn't intend to jump back then either."
"You said I was drunk that time. I'm sober now."
"Forgive me, Your Majesty. I hope you understand that the people around you care about your well-being."
Sovieshu clicked his tongue, but did not order them to stay away. Instead, he muttered to himself.
"The view from this window is as unfamiliar as it is inhospitable because the person who knows me best is not here."
"Your Majesty…"
"I thought nothing was more terrifying than Navier swinging a pillow, but now I know I was wrong."
"Your Majesty should not have deposed her."
"I know. I didn't think my own stupidity would be the most terrifying thing."
Sovieshu gritted his teeth.
"It's all due to the blows my father gave me on the head. The consequences showed up over time."
"…"
"Or did Navier stuff peaches inside her pillow to hit me?"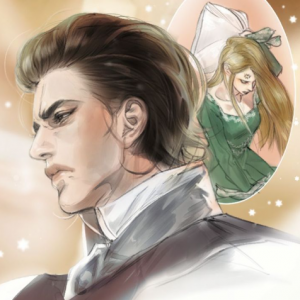 Since Marquis Karl didn't answer, Sovieshu asked directly,
"Was it like that?"
"No, it definitely wasn't peaches."
"If it wasn't peaches, what did she hit me with?"
"That's…"
"Tell me the truth. It's been six years anyway."
"From what I remember, it was only…"
"It was …?"
"Actually, I don't know. All I know is that Your Majesty dropped the peaches and one hit Navier on the head and left her with a bump. When Your Majesty went to apologize to her, Your Majesty ended up with a similar bump on your forehead."
'So she did put something inside the pillow…'
Sovieshu sighed wistfully as he looked at Marquis Karl with his mouth slightly open.
'What's the use in talking about it? It happened six years ago.'
There was much more about Navier that he couldn't remember other than the incident with the peaches. That matter was unimportant now that he had to recover his wife, who had become the wife of another man.
"Marquis Karl."
"Yes, Your Majesty."
"How much has Navier grown?"
"She grew a lot in these years."
"Really?"
"She has become a distinguished empress."
"Distinguished… huh."
Sovieshu bit his lips and took a deep breath to control his emotions. He knew he shouldn't laugh under the circumstances, but it was impossible to imagine Navier as a distinguished Empress.
"I'm serious. Both Your Majesty and Navier were admired by everyone during your time as Emperor and Empress."
"Marquis Karl."
"Yes, Your Majesty."
"You told me that I revert to my present-day self at night, the one who still has the memories of the last six years, correct?"
"Yes, Your Majesty."
"Grab him by the neck and punch him in the face."
"What?! Your… Your Majesty!"
Marquis Karl was startled, but Sovieshu looked out the window again with sadness. When Marquis Karl saw the pain on his face, he recalled the conversation he had with the other secretaries.
It was about when and how to tell Sovieshu about Princess Glorym and Navier's pregnancy.
Thanks to the measures taken to keep everyone's mouths shut, very few people knew of Sovieshu's condition.
When Sovieshu awoke from the fall, several courtiers witnessed his memory loss. However, all were informed that the loss was only temporary, and he was now well.
As a result, Sovieshu had not yet heard about Princess Glorym and Navier's pregnancy. But since Sovieshu would travel to the Western Empire, he needed to be told about Navier's pregnancy. The matter of Princess Glorym could still be postponed.
"Marquis Karl. It seems you want to tell me something. Go ahead and do so."
Sovieshu spoke without looking away from the window.
'Did he notice my unease?' Marquis Karl thought.
Then, he confessed.
"Your Majesty, there is something you should know before you go to the Western Empire."
"Do you want me to be careful because Navier is now another man's wife?"
"Besides that…"
"Is there something else?"
"Navier is pregnant."
Sovieshu turned his head. Marquis Karl averted his gaze for a few moments before looking at Sovieshu. To his surprise, Sovieshu did not seem angry or desperate. There were even subtle traces of satisfaction on his face.
"Your Majesty?"
When Marquis Karl called him carefully because he was confused, Sovieshu sighed with sorrow before his expression returned to normal.
"I see. Navier is pregnant. I understand…"
'Pregnant by another man.'
Sovieshu thought with a frown, but quickly turned away with an inscrutable expression that Marquis Karl could not read.
'Did His Majesty suspect that Navier was infertile even six years ago?'
Marquis Karl reflected with confusion. Although Sovieshu and Navier were married at the time, they had not yet consummated the marriage. Sovieshu's reaction was strange.
In any case, he was relieved that Sovieshu's shock was less intense than expected.
"Your Majesty. I'll tell you this just in case. Your marriage with Navier ended badly. Navier doesn't know about Your Majesty's current condition, and even if she knew, she might treat Your Majesty coldly."
"I see."
Sovieshu answered calmly.
"Still, I must go."
"Your Majesty…"
"I must see Navier."
Sovieshu paused briefly and then added,
"For the sake of the country."
***
Comments for chapter "Chapter 420"
NOVEL DISCUSSION