Chapter 437. The Man I Hate (2)
Translator: Aura / Editor: Tiny Zebra
---
Back in the room for distinguished guests, Sovieshu closed his eyes and slammed his head against the wall as soon as he closed the door.
He wanted to drink but feared that alcohol would cause the reappearance of the hallucinations in which he saw Navier.
Sovieshu held a hand against his chest and leaned over, biting his lip hard.
He slid slowly down the wall, his jaw clenched to stifle the cries of pain. He collapsed to the floor and shed tears silently.
He wanted to turn back time.
'Two years, no, just one year. I wish I could go back a year.'
It was unfair. He had not come to the Western Empire of his own free will, he had not come to investigate the phenomenon of mana decline under the pretense of apologizing to Navier, so he considered all the words she had spoken unfair.
This made him regret what he had done to Navier even more. He could imagine how unfair it must have felt for Navier to have her brother falsely accused and banished. How unfair it must have felt to be accused by Sovieshu of spreading strange rumors about Rashta. How unfair it must have felt when he sent gifts to Rashta on Navier's behalf and the nobles gossiped about it.
"Navier…"
When he opened his eyes he thought he saw Navier on the bed.
She was sitting in a comfortable position, looking at him with eyes that said, 'What are you doing?'
When he reached towards her, she smiled and disappeared.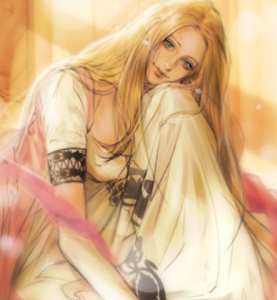 Sovieshu stood up, supporting his weight against the wall, and staggered over to the bed.
As soon as he flopped on the bed, he closed his eyes and got under the sheets, clutching them and gasping for breath. His aimless anger finally found a target.
"Damned kid."
The target of his anger was his day self, the 19-year-old who only caused trouble while having none of the bad memories.
Sovieshu went to his desk, tore off a blank sheet of paper, picked up a pen, and uncapped the ink bottle.
— What the hell are you doing? Do you want both of us to be hated by Navier until the end? You're crazy!
Once he finished the letter, he left it on the desk, went out into the corridor and ordered for Marquis Karl to be called.
After a while, the servant brought the half-asleep Marquis Karl.
Sovieshu, who ushered Marquis Karl into the room, pointed to the other letter,
"Get rid of it."
Puzzled, Marquis Karl hesitantly picked up the letter.
He seemed unsure whether he should tear it up or not.
Sovieshu snatched the letter from him and spoke coldly.
"I'm not asking you to get rid of this."
He tapped his head with a finger.
"Find a way to get rid of the personality that appears by day."
"!"
***
I went out to the garden earlier than usual because I wanted to take an early morning walk.
As I walked deep in thought, I nearly fell when I tripped over a stone, but Mastas rushed to help me.
"Your Majesty, are you alright?"
Mastas asked with concern.
"I'm fine."
"You don't look well."
"My mood is not the best."
"Ah, it's because it's too early…"
Although my ladies-in-waiting helped me set a trap for Sovieshu, they were unaware of the implications of the rumors they had spread.
I was sorry I couldn't be honest with them, but I had no choice. The matter of the phenomenon of mana decline was highly confidential and few officials in the Western Empire knew about it.
Mastas might know. Although she was my lady-in-waiting, she was also one of Heinley's knights. However, my other ladies-in-waiting no doubt spread the rumors without knowing the real reason.
All I said to my ladies was, 'I think Sovieshu has come with bad intentions. I'll have to make him reconsider how long he will stay here.'
Of course, my ladies-in-waiting didn't hesitate to roll up their sleeves.
Countess Jubel was fanning herself as if it were hot, and said,
"Your Majesty is the kind of person who finds it unpleasant to be anything less than polite. That is not the case for many people, like myself and my husband, but Your Majesty is courteous to everyone."
Laura added with a sigh,
"Countess Jubel and Count Jubel are a perfect match. I don't know why you have such a bad relationship."
"Laura. Don't forget I have a fan in my hand. I am not afraid to hit you with it in the mouth."
As I listened to Countess Jubel and Laura's quarrel, I paused by the fountain to feel the stream of water with my hand.
'Your Majesty is the kind of person who finds it unpleasant to be anything less than polite…'
Maybe that's the reason for my discomfort. When I spoke sharply to Sovieshu, I noticed that every word I said hurt him and I felt uncomfortable. Especially since the person I spoke to was the 19-year-old Sovieshu who had no memories of what he did to me.
***
After my walk, I went directly to my office in an ambiguous state, neither comfortable nor uncomfortable.
My ladies-in-waiting left to attend to their business. Only Viscount Langdel and two other knights were still by my side.
But these three also left as soon as I entered the office, so I was left all alone in a space filled with the smell of paper and ink.
Luckily, I felt much better once it all went quiet. When I buried my face inside a book and smelled it, I calmed down more.
"Whew…"
After I exhaled, I lowered the book and closed it. Just then, I heard someone tapping the window.
I turned my head in surprise. On the other side of the window was…
"Queen?"
Heinley, who was turned into a bird, had his mouth wide open.
'… Did he see me do that just now?'
Embarrassed, I hurried to return the book to its place and ran for the door to escape. Behind me, I heard Heinley's beak tapping the window repeatedly.
When I reached the door, I looked back and noticed that Heinley was still tapping the window with his beak.
I can't do it. If I let him in now, he'll return to his human form and mock me.
As I shook my head, Queen's eyes widened, he hunched over with a pitiful look and weakly flapped his wings. He acted like a sad puppy.
Despite his pitiable appearance I continued to shake my head. Queen suddenly touched his forehead with his wings, wobbled, and ended his performance by slumping on the window sill.
In the end, I walked over to the window and opened it. Queen immediately flew in and happily circled the room.
Comments for chapter "Chapter 437"
NOVEL DISCUSSION