Chapter 439. Dolshi's Drawing (2)
Translator: Aura / Editor: Tiny Zebra
---
The box was returned to Sovieshu.
It was brought by Navier's attendant with a polite apology: Empress Navier appreciated it, but she couldn't accept it due to various reasons.
As soon as the attendant left, Sovieshu opened the box. Although he thought that she wouldn't accept it sincerely, he expected that she would keep it anyway due to the mutual respect between their countries. He was a little saddened that she had returned it immediately.
Since childhood, he had fights with Navier, but they had never been serious. For that reason, he didn't know how to apologize in the face of Navier's inordinate hatred.
'Navier hasn't even wanted to talk to me…'
As Sovieshu stared depressed at the untouched peaches, he noticed a crumpled piece of paper. Once he took out the paper and smoothed it, he saw an unfamiliar scrawl.
— It has only been a few hours since I spoke to you clearly. If you feel even a little bit remorseful, you should leave. You truly are shameless.
'A few hours?'
Sovieshu had no idea that his night self had met with Navier.
He had seen the note in which his night self asked if he wanted them both to be hated by Navier until the end, but he never thought it was because he met Navier.
Sovieshu examined the note left by his night self, then crumpled the paper in his hand.
'…Navier would hate us until the end? It seems that there was an important conversation. Shouldn't he have informed me about it? And isn't it his fault that Navier treats us so coldly? He is the one who ended a suitable marriage with Navier. He messed it all up. I hate him.'
***
Duke Elgy sat on the deck of a ship as he twirled a medallion in his hand. At first glance, he seemed unhappy due to his indifferent expression.
"What's wrong with him?"
"I don't know."
"Leave him alone. He always falls into moods like this after he gets what he wants. He'll be excited again when something catches his interest."
The pirates didn't take their eyes off Duke Elgy, but they didn't talk to him. His gloomy mood had persisted for many days.
As the salty wind blew, the chirrup of a seagull was heard.
Duke Elgy looked up.
The bird was actually a cockatoo. It perched on Elgy's leg and offered him the letter that was tied on its leg with a squeak.
Elgy took the letter and unfolded it. He immediately recognized Heinley's penmanship.
— Are you busy? Could you help me retrieve the mana stones planted in Blue Bohean?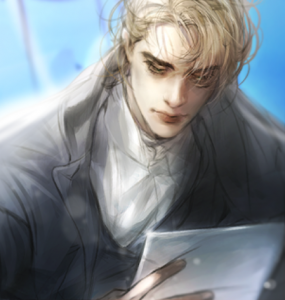 Elgy folded the letter and tied it back to the cockatoo's leg. It seemed that he had no intention to write an answer.
The cockatoo didn't insist either but simply flew away with the letter. As he watched the bird, Duke Elgy leaned against the outside wall of the cabin.
'Help him retrieve the mana stones…'
Duke Elgy sank deep in thought.
He knew that upon his arrival in Blue Bohean he would be rebuked and lectured due to his actions in the Eastern Empire. He thought about that woman… in her usual quiet voice, she would say that Duke Elgy should not have harmed anyone.
Then he thought of his father, who would probably listen to the woman while sipping coffee. There would come a point where his father would not be able to take the uncomfortable situation any longer and he would leave the room.
'After that, I will…'
***
The more I thought about it, the harder it was to believe it, and I became more and more angry.
He's shameless. He didn't only lose his memory, but also his pride and dignity.
The Sovieshu I knew had strong pride. Maybe his pride as Crown Prince was not as strong as it was in his days as Emperor. But it should still be strong enough to feel shame at being caught while searching another country's palace under the pretense that he had come to apologize. He should have returned immediately to the Eastern Empire.
However, he sent me peaches! How could he send me peaches in a situation where even an apology letter like, 'I apologize for yesterday's misunderstanding', would be disgraceful?
"Your Majesty?"
"What is it, Miss Rose?"
"Are you alright?"
"Of course."
To tell the truth, I didn't feel well. Anger at Sovieshu, worry and guilt that Heinley had to retrieve the mana stones, concern about having to handle Imperial affairs in his absence, the possibility that our involvement in the mana decline would be discovered, the lack of progress in my magical training… all that and more overwhelmed my mind.
"Your Majesty."
Just then, a knight informed me that Grand Duke Kapmen had come to see me.
I went out to the drawing room to receive him.
When I saw him, I recalled the last time I saw him and an awkward smile appeared on my face. He had kindly introduced me to his friend, but I was so surprised to see Sovieshu that I rushed out of the cafe and left him there.
"Have a seat, Grand Duke."
"Did you return to the Palace safely, Your Majesty?"
Come to think of it, we had taken a single carriage to the cafe. And I left on that carriage, without him.
"Yes, thank you for introducing me to your friend. I'm sorry I left first."
"It was inevitable."
Kapmen finally sat down, took off his hat and put it on his knees. As we exchanged cordial words, Mastas brought coffee, other drinks, and food.
But strangely, once the two of us were completely alone in the drawing room, Kapmen suddenly cut off the pleasant conversation.
'Looks like he didn't just come to greet me.'
The Grand Duke looked towards the closed door and immediately changed the subject.
"What did you talk to Dolshi about while I went to check about Emperor Sovieshu?"
"Don't you already know? Didn't you…"
… Didn't you hear his thoughts? I omitted that last part due to fear that someone might overhear. Grand Duke Kapmen needed to hide his ability in order to take advantage of it.
"No."
Who knew that rascal Dolshi would be the type to be careful about what he thinks?
"I can't hear Dolshi's thoughts."
"How is that possible? Can't you hear everyone's…?"
Were there exceptions?
"No. I don't know the reason."
After his calm reply, Kapmen pulled a piece of paper from his pocket and held it out to me.
"What is this?"
As I accepted it and unfolded it, I realized that it was a drawing that could be described as a 'doodle'. It looked like a three-year-old who was particularly bad at drawing had done it.
"Do you have a nephew?"
"It was drawn by Dolshi."
"Oh…Sorry."
"Don't worry, he knows he's not good at drawing."
I see. At least the rascal has good eyesight… but it's even more curious. Why would Grand Duke Kapmen give me a drawing that Dolshi himself knows is bad?
"Dolshi asked me to give it to the lady with the funny name."
"…"
"I'm sorry. I didn't expect that he would mock your false name."
It's a lie! What other reason would there be to call a person 'Butterfly'?
Only in moments like this, when I complain in my mind, it is a little less awkward that the other person can hear my thoughts.
Grand Duke Kapmen smiled bitterly and clenched his coffee cup. I felt a little guilty for complaining excessively in my mind about that absurd name.
"Well, it seems I don't have good taste in names."
He already knew my opinion, so there was no need to answer. I smiled awkwardly, took a sip of my drink and quickly changed the subject.
"Why did Dolshi ask you to give this to me?"
He had shown no interest in me. Although he offered to help me before I ran away, he also said strange things…
"I don't know. He just told me, 'If she does this, I'll help her.'"
"Does that mean he'll help me master my magic if I do this?"
"It seems so."
Grand Duke Kapmen hesitated as he answered, as if it was really annoying not to be able to hear the other person's thoughts. I nodded and focused my gaze back on Dolshi's drawing.
"…"
I needed to decipher it so I could decide whether to do what he wanted. But no matter how hard I looked at it, the drawing was so rudimentary that I couldn't figure out what it meant.
Let's see… There are lines drawn from top to bottom separated by a small space, and in the center there is a shape that makes me think of an intense glowing light…
"… I don't know what it is. Didn't he say anything?"
"Yes, I asked him. Dolshi said, 'She'll know as soon as she sees it.'"
It was a drawing that I would understand.
I nodded and exchanged a few more words with Kapmen. Once he left, I called my ladies-in-waiting and showed them the drawing to see what they thought.
"Isn't that just a joke?"
"The lines are not straight. I think he was mocking Your Majesty as he drew them."
"Isn't it the sea? It's waves. Don't the waves shine with the sunlight?"
But it was useless, my ladies-in-waiting didn't understand the drawing either.
Now that I was in this situation, I felt a little sorry that I tried to convey my feelings to Heinley through a painting. Did Heinley feel lost trying to decipher the meaning of the painting I sent him?
Of course, unlike Dolshi, I'm good at drawing, so Heinley wasn't confused by my meaning… wait. Let's think of it another way.
Requests are usually made in writing. In my case, I sent a painting because I wanted to comfort Heinley in a different way than I usually did.
However, Dolshi could have made his request in writing or communicated through Kapmen.
Yet he sent a drawing despite knowing that he didn't have that skill. I think this is an important point.
Just as I narrowed my eyes because I felt that I was close to having an important realization, Viscount Langdel entered the room.
It seemed that he had come to report to me on an important matter, but my ladies-in-waiting accosted him first to ask what he thought of the drawing. Viscount Langdel stared at it for a moment and said,
"Isn't it a wall? I think it's a wall."
"A wall?"
"Now that you mention it, it really does look like a wall, Your Majesty."
"That's true. From here to here… those lines are the wall but that thing in the middle? It appears to be shining. What could it be?"
While my ladies-in-waiting were discussing it, Viscount Langdel looked at me. He wanted to talk to me, but my ladies-in-waiting wouldn't stop chattering about the drawing.
When he was finally able to shake them off, Viscount Langdel hastened to report,
"Your Majesty, a while ago you asked me to find Miss Rivetti. She has finally been found."
With this, my ladies-in-waiting fell silent at the same time, as if they had agreed beforehand.
---
Join our discord server.  https://discord.gg/CTqHuFEZ
Comments for chapter "Chapter 439"
NOVEL DISCUSSION