Chapter 443. Thunder (2)
Translator: Aura / Editor: Tiny Zebra
---
"Let's also postpone the audiences scheduled for the afternoon."
Audiences are one of my daily duties, but the bad weather was a valid reason to make an exception, so my attendants agreed with my decision.
After I quickly finished with the important business in my office, I went straight to the matrimonial bedroom. In this bedroom, completely isolated from the rumble of thunder, Heinley slept peacefully like a beautiful angel. Even his messy hair made him look lovely.
I stroked his cheeks a few times and whispered in his ear.
"Heinley."
His body immediately shuddered and his eyelashes fluttered. Then he opened his purple eyes which I loved so much.
"My Queen? Navier."
He held out his hand as he called me in a sleepy voice. He tugged gently on the back of my neck, pulling me towards him, and kissed my collarbone, neck and chin.
"Why didn't you sleep more?"
He glanced at the clock and ran his hand over his eyes.
"It's still early."
Last night, Heinley told me that he planned to sleep late because he had no work in the morning. Now, he didn't seem to want to wake up.
"Heinley, did no one deliver a message to you yet?"
"A message? Was it urgent?"
"It seemed urgent."
"I haven't been told of anything… McKenna may have decided to tell me about it later."
My attendant had rushed to my office with a pale face before the usual time, and during rough weather, just to let me know. Did McKenna decide on his own that it wasn't an urgent matter? That made it all the more suspicious.
After I asked my attendant if there was something I didn't know about Grand Duke Lilteang's imprisonment, he became flustered and was unable to answer. He pleaded with me to understand that he was in a position where he couldn't give me that answer.
So I turned directly to Heinley.
"Wake up already."
When I pulled the covers off him, Heinley clung to my legs with a frown.
"Huh? What is it, My Queen?"
"I heard that Grand Duke Lilteang escaped."
"The Grand Duke?"
Heinley looked up a little surprised, but then leaned back into my lap with a smile.
"You punished him with Emperor Sovieshu's approval, so there shouldn't be any problem, right?"
"That's right."
His silky hair slipped through my fingers. After I stroked it for a while, I placed one hand on each cheek, and pinched them tightly.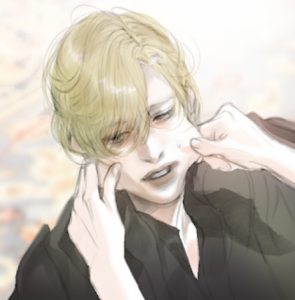 "So, why was my attendant so pale? Huh, Heinley? What could be the reason?"
***
"You told me you'd sleep late. Did you fall out of bed? You must have just left your bed since you still have the marks of the pillow all over your cheek."
When Heinley walked into the office, his cheeks were noticeably reddened and puffy. McKenna laughed at him with his hands on his stomach. Heinley clenched his teeth as he repressed the urge to force McKenna to transform into a bird, tie a pretty ribbon around his wings, and throw him out the window.
"I heard that Grand Duke Lilteang escaped."
"Yes."
At the mention of the Grand Duke, McKenna immediately turned serious.
"Someone must have helped him escape from the tower. The signs indicate that he had help from the outside."
"You should have told me."
"I didn't want to tell you while the two of you slept because I was afraid that the Empress would find it strange. Her Majesty Navier might have realized that there was a serious problem."
Heinley snorted. If Navier hadn't gotten up early and gone to her office, if Navier's faithful attendant hadn't rushed over to inform her, Heinley would have been truly grateful for McKenna's consideration.
"What's the matter?"
McKenna asked worriedly as he noticed Heinley's dejection.
"An attendant of My Queen's told her about it very early. My Queen woke me up because she noticed something strange going on."
McKenna frowned.
"So the Empress already knows? Your Majesty told her… about the nature of the punishment?"
Heinley covered his face with his hands.
"Yes. What if My Queen thinks I'm trash and can't bear to be around me anymore?"
"She'll discard you…"
"McKenna!"
As the two were about to start fighting, the chancellor, who had remained quiet all along, cleared his throat to make his presence known.
"We have instructed knights to investigate who helped him escape and track him down. The 2nd Guards Corps were also instructed to block the road leading to the capital and investigate those who entered and left around the time of the escape. So you need not worry, Your Majesty."
"Good work."
Heinley then gave some more instructions and looked thoughtfully out the window.
The torrential rain showed no signs of slowing, so it seemed like night outside the window, even though it wasn't even noon.
"What are you thinking, Your Majesty?"
"What about Emperor Sovieshu?"
"He wouldn't know about the escape yet, unless he's involved. If you order it, the investigation will continue in secret to prevent him from finding out."
Heinley had already thought about it, so he shook his head.
"No, I'd rather meet with him to discuss it."
"Your Majesty?"
"It is worth reminding him that the decision to lock up Grand Duke Lilteang in the Western Empire was made by both of us."
That said, Heinley called a servant and ordered,
"Ask Emperor Sovieshu to have lunch with me."
***
Heinley will discuss it with Sovieshu.
Although Heinley's punishment had been quite cruel, Grand Duke Lilteang had provoked an incident in which an innocent child could have lost his life.
Emperor Sovieshu would likely want the matter to be resolved without any fuss, and it would be possible to pretend that the escape had simply not occurred. The Grand Duke would be found and re-imprisoned, or Sovieshu would quietly take him away. It would be fine no matter what conclusion was reached. It should be in his interest to avoid a scandal to preserve the honor of the Eastern Empire.
The uncertainty was how the current Sovieshu would react. He probably doesn't know that he agreed to let the Western Empire punish the Grand Duke, unless Marquis Karl already informed him. Still, he might become angered by the cruel punishment inflicted on a high-status noble from his country.
I pondered long and hard, but this matter was out of my control.
Eventually, I forced myself to focus my attention on the children's book lying open on my lap. It was not good for my baby's education to imagine a person whose mouth was sewn shut with a stone inside. Therefore, I set out to distract myself and purify my mind by reading happy stories.
"I don't like this!"
Laura suddenly screamed as she covered her ears and her body shuddered at the rumble of thunder. Suddenly memories came to me that made me laugh. Laura lowered her hands and asked,
"Your Majesty, what happened? What happened? Did you think of something funny?"
Countess Jubel gave Laura a severe look, but Laura insisted with sparkling eyes.
"What happened? What happened?"
"It's nothing special. It's just that I remembered that my brother was afraid of thunder as a child."
"Lord Koshar?"
I didn't know if he was still afraid of them. We didn't spend enough time together for me to know.
"I never would have guessed."
Almost at the same time, Mastas said,
"I can imagine it."
Laura and Mastas looked at each other, puzzled by their contradictory comments.
I sided with Laura's reaction. Mastas' remark was strange.
Mastas looked at us as if we were being unfair, and explained,
"At first glance he seems weak and vulnerable. Isn't it understandable that he is afraid of thunder?"
Mastas is talking about my brother? As if she was thinking the same thing, Laura asked quietly whether I had another brother.
With a smile, I confirmed that Koshar is my only brother. Mastas became even sadder because my other ladies-in-waiting didn't agree with her view of my brother either.
The situation was very funny. Rose pursed her lips tightly as her shoulders shook.
In the midst of the laughter and chatter, someone hurriedly knocked on the door of the drawing room.
The room fell silent, and Laura headed for the door.
Comments for chapter "Chapter 443"
NOVEL DISCUSSION