Chapter 444. Cruel Emperor (1)
Translator: Aura / Editor: Tiny Zebra
---
I asked, "Who is it?" as Laura opened the door.
"Viscount Langdel!" she exclaimed. "Your Majesty, it's Viscount Langdel."
"Let him in."
Viscount Langdel entered, took off his damp hat and sat down on the couch. His shoulders were soaked, the rest of his outfit was untouched.
"Did you just come from somewhere?"
"Yes, I had business to attend to,"
He said, looking around awkwardly before deciding to set his hat down on his lap.
"You will be more comfortable if you set it down beside you."
"Don't worry. More importantly, Your Majesty, I need to leave again until tomorrow."
"Really?"
"Yes. But you can rest assured that my deputy commander will take good care of you."
"That's fine. It's raining too hard to leave the palace anyway."
After the Viscount bid us farewell, Laura walked over to the window to check the weather again and exclaimed in amazement. "Wow, where could Viscount Langdel be going in this weather?"
"Although he is acting as my personal knight, he is a member of the Wol Continent Alliance. He must have many obligations."
Laura clapped in realization.
"Oh, that's true, he must have many other things to do."
She must have forgotten that Viscount Langdel was a Commander of the Transnational Knights because he spent so much time at my side.
"Indeed, it's admirable for Viscount Langdel to have stayed so long at Your Majesty's side."
Although Countess Jubel liked Viscount Langdel, she seemed to disapprove of the wet marks his hat left on the couch. In the end, she couldn't take it anymore and asked a maid to dry the couch.
Meanwhile, I sat in front of the window with a blanket and a cushion. I sank into my thoughts with my head leaning against the frame.
I didn't care that Viscount Langdel had to leave to settle his affairs… what still bothered me was the matter with Grand Duke Lilteang.
If Grand Duke Lilteang had been imprisoned under normal conditions, there would be no problem because he was punished for his crime with Sovieshu's approval.
However, the imprisonment would not be considered 'under normal conditions'. Once it became known that Grand Duke Lilteang was punished inhumanely, Sovieshu could demand explanations.
If I was dealing with a similar matter where a noble of my country was unfairly punished, I would formally complain if the other side was a hostile country. Of course, the relationship between the Eastern Empire and the Western Empire was not so bad that it could be considered hostile.
However, Sovieshu might try to take advantage of this situation in some way…
There could be trouble.
I lightly tapped my head against the window frame. Since Sovieshu's current state was not normal, it was difficult to predict how things would turn out.
How does Heinley intend to deal with this?
***
At that moment, Heinley was in a large dining room that was rarely used. He was seated at one end of an extremely long table, while Sovieshu was seated at the opposite end, with his servants standing by on either side.
The table was impractical for a meal between the two, but Heinley deliberately chose it for this occasion.
There was little reaction from Sovieshu to the extravagant table and the awkward distance between him and his host. With a fake smile, Heinley said,
"I hope you enjoy the meal."
Two chefs appeared and set the dishes down in front of Heinley and Sovieshu, then they withdrew.
Sovieshu skipped the courtesies and went straight to the point.
"What is it that you want to tell me?"
Sovieshu didn't think it was necessary to exchange pleasantries. Heinley agreed.
"Do you remember that Grand Duke Lilteang almost killed a child belonging to one of our most distinguished noble families?"
Sovieshu still had many sections of his diary to check. Marquis Karl also helped to refresh Sovieshu's memory, but he focused on what he felt was most necessary for Sovieshu to know.
Since Sovieshu didn't answer and his expression became stiff, Heinley calmly chopped the head off his fish and continued.
"The Grand Duke escaped."
"What?"
"I thought I should let you know. If you find him first, of course, you will send him back here as he has not yet completed the five year sentence."
Sovieshu smiled and chopped the head off his fish just like Heinley did.
"We'll see."
His answer was vague while he analyzed the situation.
'From how he talked about Grand Duke Lilteang's crime, I assume that the imprisonment wasn't done secretly. 'I' must have agreed to it. Did he remind me of the facts of the case with the intention that I share responsibility with him for any related problems, because I allowed that sentence?'
Sovieshu had recognized Heinley's cunning, so his reply was astute.
"One wonders how badly the Grand Duke was treated that he risked escaping."
Although Sovieshu didn't understand why his other self had allowed the Western Empire to carry out the Grand Duke's punishment, he was convinced that his other self wouldn't have allowed him to be tortured, so he made the accusation under this assumption.
Besides, it was the kind of accusation he could use blindly to annoy Heinley.
Unbeknownst to Sovieshu, he was right on target. Still, Heinley replied without hesitation.
"The Grand Duke has received special treatment. You don't have to worry like he's a child."
Sovieshu disliked the Grand Duke, but he despised Emperor Heinley, so he whispered sarcastically as he scooped the meat off his fish with his fork,
"If a foreigner like Grand Duke Lilteang was able to escape a Western prison, it is likely that you need to improve security measures. How about increasing the number of guards?"
"My security measures are sufficient."
Heinley replied with a smile that hid his discomfort, then looked awkwardly at the servants on either side of Sovieshu and replied with the same sarcasm.
"Only Your Majesty's mages or the Transnational Knights would be able to break through the security of the Red Tower where Grand Duke Lilteang was imprisoned."
"…"
"Of course, it's impossible for the Transnational Knights to appear out of nowhere."
It was obvious what Heinley meant: 'Wasn't it you who helped the Grand Duke escape?'
"It sounds like you're looking for someone to blame."
"It's a reasonable suspicion. After all, you have a habit of snooping around in the homes of other men."
They smiled coldly at each other, while cursing inwardly.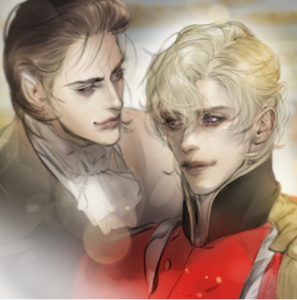 'He's as sly as a fox.'
'He's slippery like a snake.'
***
Comments for chapter "Chapter 444"
NOVEL DISCUSSION