Chapter 447. Unbearable (2)
Translator: Aura / Editor: Tiny Zebra
---
Grand Duke Lilteang had not yet been found. When I first spoke to Heinley about the escape, he seemed more worried that I would discover his cruel treatment of the Grand Duke. As for recapturing the Grand Duke, he didn't seem troubled.
However, contrary to expectations, it turned out to be difficult to find any clue to his whereabouts.
Heinley had been very quiet these days, even now as he joined me on my usual walk in the garden. He walked by my side with a preoccupied, thoughtful expression.
It was unbearable to see him like this, so I rubbed his shoulders gently.
"Heinley, are you alright?"
He finally looked at me and answered with a smile.
"Of course. I'm sure we'll find him soon, My Queen."
"That's the attitude, Your Majesty."
Heinley chuckled and rubbed his forehead against mine.
"My Queen, you are lovely. It's so endearing when you express yourself naturally."
Is now really the time for this? In any case, I felt pleased that my words seemed to comfort him.
When McKenna called him from afar, Heinley thanked me for the pleasant walk, kissed me on the cheek, and left. I watched Heinley return to the palace and only turned around when I couldn't see him anymore. I hoped the Grand Duke would be captured soon, for Heinley's peace of mind.
When I continued my walk alone, I saw Sovieshu. He approached me as soon as he saw me. Since I couldn't simply ignore him, I nodded to him and headed off in another direction.
However, Sovieshu followed me and tried to walk beside me.
I veered in the opposite direction, but he turned again to stay by my side. I finally stopped and faced him angrily. He stopped too and looked me in the eye.
If he were an insect, I would have squashed him by now. What was he trying to do by following me?
"Navier, you're being deceived."
"I know I was deceived. By you."
I walked away quickly, but I couldn't shake him off. He matched my pace and began to speak again.
"Navier. Do you know who Emperor Heinley really is?"
"Yes, I do."
"You still don't know him."
"I know him better than you."
"Once you find out what kind of a person he is, you won't want to be around him."
"Go away. I don't want to hear you speak nonsense."
Despite my bluntness and my glare, he didn't leave.
"Such beautiful eyes. They have always been beautiful, but now they're even more so."
"Don't speak to me like that!"
It was useless to speak to him.
"Think about it, Navier. I made a mistake, but I promised to love you forever. What about that scoundrel? He married you shortly after he met you. Don't you know what that means? He fell in love with your appearance, that's all. How can you believe that his love for you will last forever?"
It's outrageous… for him, of all people, to say something like that to me. In my fury, I froze the grass beneath Sovieshu.
"Your ability is just like you."
"Heinley will not divorce me. Don't compare him to you."
"His love for you will end, and you'll be sad."
"Can't you see I'm pregnant? I'm carrying Heinley's child."
"I hope the baby resembles you."
"It doesn't matter what you say, nothing could ever make me want to return to your side."
I turned around right away.
"Do not speak of this again."
I left, upset, but Sovieshu soon reached me.
"Navier, I can accept the baby as my own."
What…?
"The baby can also recognize me as the father. It doesn't know who its father is yet."
While I stared at him dumbfounded, Sovieshu smiled proudly, and it infuriated me. I raised my voice and spoke as coldly as I knew how.
"What's wrong with you? You said before you had given up. Why can't you let it go?"
"I found out that your husband isn't a good man. And give up? It wasn't me who gave up."
"Heinley may be flawed like anyone else, but he's a better man than you."
"Open your eyes, Navier. Your anger won't allow you to listen to me. It's not only about Heinley, the people of the Western Empire…"
"What about the people of the Western Empire?"
"… Forget it."
"Say it. What about my people?"
Sovieshu suddenly didn't want to speak. Probably because he didn't really have anything to say.
"If you're done with your supposed recovery, then return to the Eastern Empire and mind your own business. You still need to come up with a way to keep the port that was foolishly promised to another country."
Before I could hear Sovieshu's response, one of my attendants shouted as he rushed up to me.
"Your Majesty! Your Majesty! A member… a member of the Transnational Knights has come to see you."
"The Transnational Knights? Do you mean Viscount Langdel?"
"Is Viscount Langdel a Transnational Knight?"
Sovieshu asked in surprise. I motioned for him to keep his mouth shut and turned my attention to my attendant. Fortunately, my attendant paid no attention to Sovieshu's question.
"It's not Viscount Langdel. It's someone else."
"Someone else?"
***
I followed my attendant to the small room where I received the guests. When I entered, I saw a silver-haired man dressed in a snow-white uniform who was facing away from me.
"You must be Viscount Langdel's Liege. I've heard of you."
At the sound of my voice, the man turned to face me.
He was a handsome man with long, narrow fox-like eyes. He introduced himself with a sly smile,
"Lady Navier. I am Angel, Commander of the 4th Division of the Transnational Knights."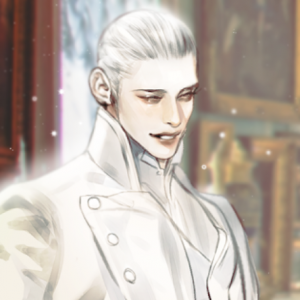 Then he bowed.
This must be the person Viscount Langdel warned me about. There was no doubt. I wondered what request he would make.
I accepted his greeting in the usual manner for now. However, the Transnational Knights didn't usually visit with friendly intentions. It's the reason why everyone was so surprised that Viscount Langdel decided to be my personal knight.
Why has this man come here?
I felt a little nervous, but my attendant seemed even more so, as he had clenched his fists.
"Bring us tea and crackers."
Once I ordered it, my attendant hurried out of the room.
"Have a seat."
When I pointed to the couch, the 4th Commander, who had waited for me standing up, finally sat down.
I sat across from him and watched him. He was a handsome man with foxlike features, a playful smile, good posture, and broad shoulders. As a Commander of the Transnational Knights, his martial arts prowess must be exceptional.
I was struck by his white gloves. It seemed that he never took them off, even indoors.
At first glance, he didn't seem like a bad person. But if I take into account the notoriety of the Transnational Knights, and Viscount Langdel's warning through a messenger, there's no doubt that he is a man to beware.
When our eyes met as I examined him, he chuckled and spoke without looking away.
"You're a keen observer."
At that moment, my attendant returned with tea and left again after placing it all on the table.
The 4th Commander raised his cup of tea, still wearing the white gloves. He closed his eyes as if savoring the tea.
Then he set the cup on the table and spoke amiably, as if to reassure me.
"You need not be anxious, Lady Navier. I just came to ask you for a favor as the 5th Division Commander's Liege."
He came not to ask the Empress of the Western Empire, but the 5th Division Commander's Liege?
"What favor?"
Viscount Langdel had already told me how to answer, but I had to ask anyway. I was also curious.
"You see, on the way here…"
The 4th Commander did not answer directly.
What's he talking about?
"I came across a terribly skinny man. Geez, he had a mouth full of wounds. It would frighten anyone to look at him."
Although I narrowed my eyes, the 4th Commander stared at me as he raised his cup of tea. His smile became so wide that it was reflected in his eyes. Then he whispered, like a child who tells a secret.
"He had stitches around his mouth. It looked like it had been sewn shut."
"!"
Grand Duke Lilteang immediately came to mind. While I looked at him, hiding my shock, he finally made his request.
"I'm in charge of several missions at once, so I'm a little short-handed right now. Lady Navier, if you agree, in exchange for Grand Duke Lilteang—oops."
The 4th Commander tapped his mouth as if he'd made a mistake, and named his request with a smirk.
"Could you lend the 5th division to me?"
I was stunned. Can this truly be called a request? It seems more like blackmail. If I lend him the 5th Division, then he would tell me where we can find Grand Duke Lilteang.
Comments for chapter "Chapter 447"
NOVEL DISCUSSION